Break the Bias
When:
March 28, 2023 6:30 PM to 8:30 PM
Where:
PInecrest Gardens - Banyan Bowl
11000 Red Road
Pinecrest, FL 33156
Organizer:
Pamela Lear
Contact:
Pamela Lear at dialogue@tbam.org
Cost:
Free, but advance RSVP is required online.
Summary:
An anti-bias event where we join with our neighbors to reflect and learn from each other's experiences.
Event Details
Description
Program designed to communicate within our local areas, so that we can live in a community, free of bias, where everyone can feel valued. Includes local panelists, from high school students to adult community leaders, representing different races, ethnicities, faiths, ages, and genders, sharing personal stories.
Address
PInecrest Gardens - Banyan Bowl
11000 Red Road
Pinecrest, FL 33156
Directions
Located at the corner of SW 112th St. (KIllian Rd.,) and SW 57th Ave. (Red Road)

Parking is available at the venue at no cost.
Get detailed directions and more on Google Maps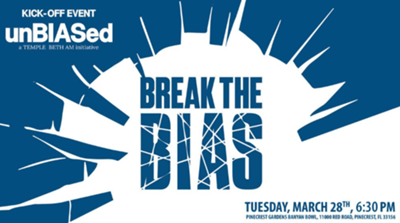 Actions
2023-03-28 18:30:00 2023-03-28 20:30:00 America/New_York Break the Bias An anti-bias event where we join with our neighbors to reflect and learn from each other's experiences. (http://jewishmiami.org/events/www.tbam.org) PInecrest Gardens - Banyan Bowl, Pinecrest, FL 33156 Pamela Lear dialogue@tbam.org