Apr 14, 2021
Jewish and African American Teens Engage in Virtual Advocacy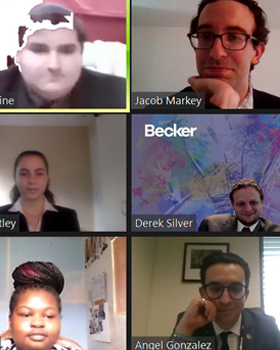 The second year of Teens Advocating Together, a partnership between Federation's Jewish Community Relations Council (JCRC) and the Miami-Dade Branch of the NAACP, concluded in March with two days of virtual advocacy meetings with elected officials in Tallahassee. Fifteen teens discussed issues related to gun violence prevention, community policing and mental health, and found a proud and receptive audience as they took the courageous step to advocate on important issues. They even received a commitment from one elected official to co-sponsor legislation they were supporting. Before making their voices heard with our elected officials, teens spent months learning from leading members of the community on such topics as leadership, branding, relationship building, the legislative process and advocacy.
Through this program, the teens are part of JCRC's effort to help build relationships across the community and bridge divides in society. "Participating in Teens Advocating Together presented an invaluable opportunity to cooperate with like-minded peers who I otherwise never would have met," says Carlos Gamboa, a senior at Riviera Preparatory School and a member of Beth David Congregation. "Speaking directly with state legislators gave me firsthand experience with the political process and insight into how to most effectively express my concerns to lawmakers."
Planning is already underway for the program's third cohort. If you know a teen who might be interested in taking part, please contact Jacob Markey at jmarkey@gmjf.org.