Aug 4, 2020
Base Miami Becomes a Federation Program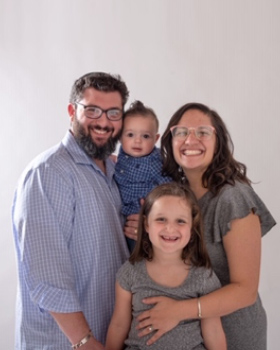 Base Miami, a program aimed at engaging young professionals and families in deep exploration of their Jewish identity in a home-based setting, is now a proud Federation program. Base Miami is centered around the home of Rabbi Adam and Jessie Gindea in Brickell. Founded on the values of hospitality, learning and service, Base Miami is focused on pluralistic educational events and programs that help create stronger connections to community and Judaism.
After three successful years of community building and programming under the auspices of University of Miami Hillel with the support of the Mason-Glazier Fund for Jewish Identity, Base Miami is expanding its communal reach with the support of Federation. Rabbi Gindea noted, "One of the exciting transitional aspects of Base Miami becoming a component of Federation is our ability to serve as a resource for young Jewish professionals already involved in other Federation programs, like The Network."
Each Base chapter reflects the personality of its rabbinic couple and embodies their vision of a vibrant and pluralistic Jewish community. In addition to Miami, active Bases thrive in Manhattan, Brooklyn, Boston, Chicago, Ithaca and Berlin, Germany, which are all part of a national and international Base movement. Base began in 2013, when four friends in their mid 20s living in Manhattan concluded that regardless of their varying religious backgrounds, they were all looking for meaning and purpose through tradition and community.
Faith Leener, Co-Founder and National Executive Director of Base, explained that Miami is an exciting place for this new Base concept because many young Jews are living in the downtown/Brickell corridor. "Base Miami represents our first fully integrated partnership with a local Federation," Leener said. "Our other Bases are partnered with JCCs, synagogues and Hillels. We are eager to learn from this model and encouraged by the vision, support and adaptive leadership of the Greater Miami Jewish Federation."
With the pandemic requiring social distancing, the Gindeas are focused on providing virtual classes to cohorts of eight to 10 participants to maintain an interactive space and intimate setting that can heighten connection and relationships during these times of separation. They plan to host future Shabbat and holiday meals in their home once it's safe to do so, as well as a wide range of educational, social and recreational activities. Rabbi Gindea is also available for pastoral care, one-on-one or small group meetings and learning, and virtual coffee dates.
"It is such an honor to continue our work under the broad reach of Federation. We look forward to offering educational resources, programs and gatherings, while being available for those exploring what it means to be Jewish today," Rabbi Gindea said. "Our message of pluralism and acceptance of the diverse and varied ways to connect to Judaism has been particularly welcomed here and it allows us to grow in a very positive way."
For more information about Base Miami, visit BaseMiami.org or email Rabbi Adam at rabbiadam@gmjf.org.