Sep 5, 2023
Israel-Based Beit Issie Shapiro Benefits South Florida Residents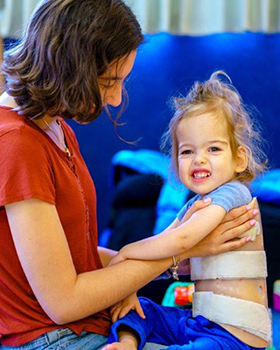 About 200 people of all ages, including local clients, recently gathered for Family Day to raise awareness and funds for Beit Issie Shapiro, a Greater Miami Jewish Federation-funded, Israel-based nonprofit that benefits people with disabilities. The afternoon included family activities at the pool and beach and a kosher barbecue.
Founded more than 43 years ago as a special education school for 16 children, Beit Issie has since grown into a global leader and United Nations consultant that touches the lives of more than half a million people annually. This forward-thinking organization has a drive to ensure that people with disabilities have access to life-changing therapies and tools, and also aims to influence policy to create a more inclusive society with opportunities for people with disabilities. Working daily with people with disabilities, Beit Issie identifies gaps in services and then provides innovative solutions to meet those needs. These innovations are tested in-house for effectiveness, and the organization shares its findings with governments, disability professionals and organizations through partnerships, seminars and trainings. To date, more than 90,000 disability professionals in 30 countries have been trained by Beit Issie.
Many who have participated in Federation missions to Israel have had the opportunity to meet Beit Issie clients and staff and see the nonprofit in action. Less widely known, however, is that Beit Issie is making a difference in Miami as well. Beit Issie has an ongoing partnership with Florida International University's Embrace program, which caters to university students with disabilities; university staff and students have also benefited from an array of professional training. At the Miami Children's Museum, Beit Issie helped guide the creation of an inclusive playroom that enables children with and without disabilities to interact, play and enjoy the museum together.
Beit Issie Shapiro receives funding from the Annual Greater Miami Jewish Federation/UJA Campaign. To make a secure donation online, click here.