Sep 18, 2023
The Brodie Family – A Legacy of Three Generations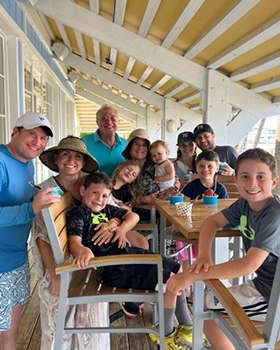 Steve and Shelly Brodie are carrying on a legacy of leading philanthropic efforts that benefit South Florida's diverse community. "We proudly support a number of important Jewish and non-Jewish charities with the Greater Miami Jewish Federation at the center of our giving — it's in our DNA," said Steve.
Steve's late father, Myron J. "Mike" Brodie, z"l, was a well-known community leader who served as Federation Executive Director for 20 years.
The summer he turned 13, Mike saw the photograph that would shape his life. It was 1945 and World War II was coming to a close, he would later recall to the Miami Herald. As knowledge of the Holocaust emerged from Germany, the teenage Brodie "saw a picture of a little Jewish boy in the Holocaust with a Jewish star on, with a trooper pointing a gun at him with his hands up," his son, Steve, remembered. "That's when my father decided to commit his life's journey to making sure that would never happen again." For the rest of his life, Mike fought to raise awareness, building community. During his tenure, he helped raise millions of dollars and led dozens of missions to Israel for non-Jewish and Jewish community leaders to demonstrate the country's importance.
That legacy of philanthropy and leadership continues with Steve and Shelly. For nearly 45 years, Steve and Shelly have been deeply involved in the Miami-Dade community. Both are recipients of the distinguished Stanley C. Myers Presidents' Leadership Award. They have both held numerous positions at Federation and currently serve on its Board of Directors — Steve as a Vice Chair and member of the Executive Committee; Shelly currently serves on The Foundation of the Greater Miami Jewish Federation's Board of Trustees and is the Past Chair of the Forever Lion (Lion of Judah Endowment) program. She is also a Past President of the Alper JCC Miami and served on its Board for more than 20 years.
Their love for Israel runs deep, which is why they are the South Florida Chairs of the American Israel Public Affairs Committee (AIPAC). They have co-chaired two Federation Family Missions together and Steve recently co-chaired the Israel 75 Miami Mega Mission. "It has been such an incredible feeling to share our love for Israel with our family and our community," said Shelly.
To ensure that their impact on the Jewish community will continue beyond their lifetime, they decided to perpetuate their Pacesetter-level annual donation through a generous gift in their living trust, making them both Forever Pacesetters and Shelly a Forever Lion. "As a child growing up in Houston, I had no idea the role that a Jewish Federation played in creating the perfect Jewish community," stated Shelley. "Through my years of involvement, I've learned that it takes a community to build a community. That is why I am leaving a legacy. There is so much more work to do."
Shelly and Steve later established the Brodie Family Philanthropic Fund through a gift of appreciated stock. "We look at this fund as the beginning of a family foundation and plan to use it as a way to further inspire and engage our children — Bradley and Alexis, Michael and Rooney — and ultimately our five grandchildren in charitable giving," said Steve.
Much to Steve and Shelly's surprise and delight, Michael and Rooney stepped up their philanthropy when they became members of The Foundation's Heritage Society through a gift of life insurance. Steve and Shelly are especially proud when they walk into the new Hub at Temple Beth Am and see all of their children's names on the Donor Wall. All five of their grandchildren are now attending pre-school, day school or religious school at Temple Beth Am. "How blessed we are, four generations strong, giving back — l'dor v'dor."
Click here to read Shelly's Book of Life story.