Mar 26, 2019
Federation is Helping Educate the Jewish Community About Increased Cancer Risks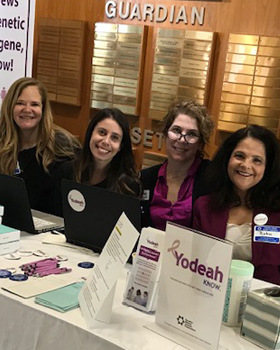 With the idea that knowledge is power, Federation is supporting Yodeah, a Miami-based, grassroots, volunteer organization that facilitates cost-effective testing for hereditary cancer gene mutations in the Jewish community. Through funding from Federation's Jewish Incubator Grants Committee and the Women's Impact Initiative, Yodeah is educating Jewish people about their cancer risks and conducting low-cost, state-of-the-art testing to identify carriers of the genes.
Dr. Elizabeth Etkin-Kramer, a Miami Beach gynecologist and founder of Yodeah, Hebrew for "to know," explained that the group's mission is to increase awareness. "We have a responsibility to spread the word about genetic testing for the BRCA mutation," Dr. Etkin-Kramer said.
One of every 40 Ashkenazi (Eastern European) Jews carries the BRCA genetic mutation, independent of a family history of cancer. Men and women who carry a BRCA mutation can have a markedly higher lifetime risk of cancers and these cancers can develop at earlier ages. For example, women who carry a BRCA mutation have up to an 85 percent lifetime risk of breast cancer and up to a 50 percent lifetime risk of ovarian cancer. Men who are BRCA positive have up to a 30 percent risk of developing prostate cancer, as well as an increased risk of male breast cancer. Other cancers, such as pancreatic cancer and melanoma, can also be seen in BRCA mutation carriers.
"In addition to reaching out to the Jewish community," added Dr. Etkin-Kramer, "we need to educate physicians to elevate awareness of testing, early detection and treatment." BRCA mutation carriers can be screened more often for cancer and undergo other preventative measures to help diagnose the disease at its earliest and most treatable stage.
Yodeah offers "Did You Know" education and testing to Jewish women's organizations and conferences throughout Miami and is developing a training program to promote greater awareness of BRCA mutations among healthcare providers. To learn more about Yodeah, visit www.yodeah.org.
Women's Impact Initiative Grants and Jewish Incubator Grants are awarded annually by Federation to support inspiring and empowering programs. For more information on Women's Impact Initiative Grants, contact Dahlia Bendavid at dbendavid@gmjf.org or 786.866.8445. For more information about Jewish Incubator Grants, contact Flora Akselrad at fakselrad@gmjf.org or 786.866.8498.