Apr 13, 2022
Diller Teen Fellows Enjoy a World of Experiences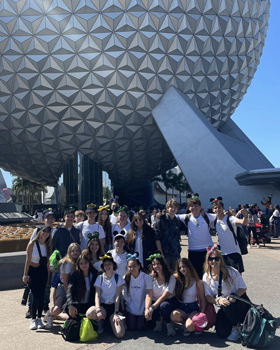 Last weekend, Miami's Diller Teen Fellows went on a journey around the world, exploring Jewish communities far and wide. This year's Jewish Communities Mifgash (Encounter) was one for the books, bringing another unforgettable experience to the Fellows. Each year, the Mifgash provides the Diller Teen Fellows the opportunity to discover, learn about and connect with their peers, Jewish communities and cultures in our partner community of Yerucham and around the globe. Though the Fellows from Yerucham were unable to visit Miami this year, our cohort was still able to have a transporting and transformative experience. Embracing "Amazing-Race"-style activities, Fellows competed in teams as they traveled around Epcot at Walt Disney World to answer questions about global Jewish populations throughout history and discover causes of potential impact (tikkun olam) and had a blast tackling Space, the Seas and attractions around the World Showcase. 
The Fellows heard messages from Jews from other Diller communities, explored culture and art from all over the globe in amazing galleries, and took in the Garden and Flower Show. With so much to see and do, the Fellows were able to take advantage of an amazing backdrop, not so far from home, to learn a tremendous amount about the Jewish impact on the world. From the introduction of fish'n'chips in the UK to understanding Jewish perspectives on life in space beyond our Earth, the Fellows accomplished so much in a very short amount of time.
Miami Diller Teen Fellows is an immersive leadership program operated by the Center for the Advancement of Jewish Education (CAJE), a Federation subsidiary. CAJE is dedicated to the continuous building and strengthening of Jewish learning across the entire spectrum of Jewish education: early childhood programs, congregational religious schools, day schools, teens and adult education.
Diller Teen Fellows empowers teens from across the globe to become leaders of tikkun olam and provides them the tools to become a force of change throughout their lifetime. Applications for Diller Teen Fellows are now open through May 31, 2022. Visit dillermiami.org for eligibility information and to learn more.