Aug 26, 2019
Be a Part of the Jewish Community's Response to Hurricane Dorian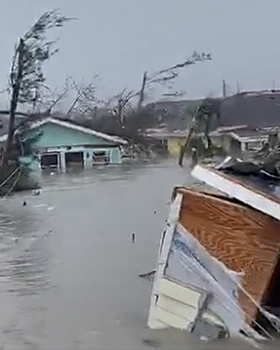 The Greater Miami Jewish Federation has established an Emergency Relief Fund to assist those affected by Hurricane Dorian. Join the nearly 500 people who have already responded to this emergency call to action by making a secure online donation here. Donation checks with the notation "Hurricane Dorian Relief Fund" may be mailed to the Greater Miami Jewish Federation, 4200 Biscayne Boulevard, Miami, Florida 33137. One hundred percent of funds donated to the relief effort will provide critically needed aid to those in the Bahamas and other affected areas. You may also call 305.576.4000 to donate. 
Federation partner agency, IsraAid, is already on the ground in the Bahamas providing urgently needed humanitarian aid. The team is conducting a rapid needs assessment, distributing relief items, providing psychological first aid as well as Water, Sanitation and Hygiene (WASH) solutions, which includes providing safe water solutions, community education and training in hygiene as well as water filtration and basic latrine rehabilitation to remote and vulnerable communities. Additionally, the organization will create child-friendly spaces, organize trauma-prevention activities and resilience-building workshops for the affected communities.
Your donations are also helping Cadena prepare for an emergency mission to the Bahamas with their specialized search and rescue Go Team, which will depart this Sunday. The group will bring state-of-the-art equipment that provides critical information about the presence of life and its location. Following the team's assesment, the organization will provide physicians, psychologists and volunteers to offer critical emergency supplies and services including solar lamps, water filters, first aid kids, baby goods, personal hygiene items and medical and emotional assistance.