Nov 15, 2023
Maintaining Israel's Food Supply During the War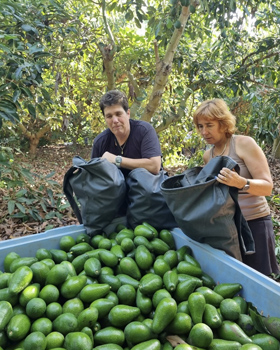 With a dramatic reduction in farmers and other agricultural workers since Hamas' deadly terrorist attack, Israel is facing a potential food crisis, and Federation's overseas partners are stepping in to help. Scores of farmers working on kibbutzim near the Gaza border were killed or abducted during the October 7th massacre.  Even more were forced to abandon their fields to join the 300,000 reservists called to duty for the Israel Defense Forces. The situation created a problem for the farms, where animals remained unattended and fields and trees were filled with crops needing to be harvested.
Thankfully, Leket Israel, the country's largest food bank and food rescue network, and a Federation partner that receives annual funding from the Greater Miami Jewish Federation/UJA Campaign, was prepared to jump into action. In ordinary times, the nonprofit collects unwanted produce from farmers and packing houses and then redirects it to a network of more than 260 organizations throughout Israel, serving over 175,000 vulnerable Israelis.
In the first two weeks of the war, Leket recruited 500 volunteers to pick produce from 50 Israel farms and is continuing to connect farmers with volunteers daily. In the same time period, among other activities, the organization distributed more than 1,600 tons of fresh fruit and vegetables and provided more than 200,000 hot meals to families forced to evacuate and to those at risk. They are continuing to to supply 10,000 meals a day to Israelis in need. To help Leket carry on its important work during the war, the Jewish Federations of North America has  disbursed an emergency allocation of $500,000 from the Israel Emergency Fund, a national collective effort that has raised more than $650 million.
In addition to Leket's work, people from across Israel and around the world have responded to the plight of Israel's farms with open arms and willing hands. A WhatsApp group has placed local farmers and volunteers where they are needed most — with spots filling up as quickly as opportunities are shared. Federation partner Birthright Israel has called upon its alumni to travel to Israel to volunteer to pick fruit and vegetables. And individual volunteers have signed up to help as well.
Last week, these volunteers included staff from the Greater Miami Jewish Federation Israel-based missions company, Giant Leaps Content Activities. (The company recently organized Federation's Israel 75 Miami Mega Mission that brought more than 800 participants to Israel in April, and is currently  running a Solidarity Mission for Miami-area rabbis.) Giant Leaps' Lyana Rotstein explained, "Today we volunteered down south, near Ashkelon, picking avocados. The farmers have lost many working hands … The orchard looked like we were working in a jungle … after five hours, we had filled four large containers with fruit.
"It was such a sense of accomplishment," she continued, "and gave us a better appreciation of all the hard work that goes into farming. It also allowed us to connect to the Land and the Zionist vision. The gratitude of the farmer was so heartfelt, it made us all feel so wonderful to have been able to help out. Am Israel Chai."
Nutritional support and food insecurity are a priority of Federation and the Annual Campaign provides yearly funding for several nonprofits in Israel that work to feed the hungry and those at risk. To make a donation to the Annual Campaign, click here.