Jul 20, 2020
Miami Jewish Abilities Alliance Helps Build an Inclusive Jewish Community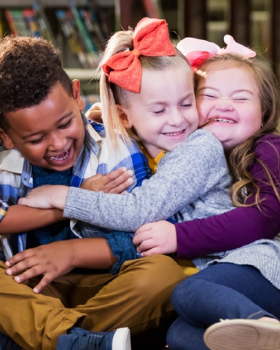 With the idea to build a more inclusive Jewish community, the Greater Miami Jewish Federation recently launched Miami.JewishAbilities.org, a user-friendly gateway that links individuals with disabilities and their families to services, support and resources. This website — the first of its kind in Miami — developed out of a grassroots effort to meet a community need.
In an example of collaboration at its best, Ben Berman, Michelle Saka and Avigayil Shaffren, parents of children with special needs, organized a series of three informational meetings for Miami-Dade families. More than 100 people attended, offering input and suggestions while sharing their struggles to find support and navigate the medical, social and emotional needs of their children. "Caring for special needs children is a long and winding road," Berman said. "We all need a support system."
Following the meetings, Berman, Saka and Shaffren met with Federation to discuss the concerns of the group with the mission to improve what is available in the Jewish community. "It is so important for families to know they are not alone," Shaffren said.
The effort led to the Jewish Abilities Alliance website — a way to create community, bring information together and share experiences. "We didn't want to reinvent the wheel," Berman said. "Creating a resource site is a necessary step. Parents can't Google everything they need."
The website offers a one-stop, cohesive reference portal on educational options, accessibility tools, support groups, programming and timely suggestions to cope with the coronavirus pandemic. "The website is about making information more accessible," Saka added. "It is about getting our voices heard."
Along with the creation of the website, Federation hired Inclusion Specialist, Nancy Zaretsky, MA, a long-time community advocate and parent to an adult on the Spectrum. Zaretsky helps families like hers through the array of social services and support groups. With the 30th anniversary of the Americans with Disabilities Act on Sunday, July 26, creating a thriving, diverse and inclusive community is more important than ever. Almost 25 percent of Americans have some sort of disability and Federation's efforts can help families at all ages and stages.
For example, Zaretsky recently worked with a family to connect their adult son, who has a bachlelor's in political science and economics and speaks several languages, with a transformative Jewish Changemakers Fellowship. "He met very interesting people and studied interesting subjects," Nathalie Tessier said of her son, who is visually impaired and on the Spectrum. "He learned more about Israel, the USA's future elections and gained more confidence to launch his personal project."
For Zaretsky, the Tessier experience reflects her goal as a support system. "I usually tell people I am here as a guide," Zaretsky said. "With my expertise and personal experience, I can help move families forward."