Mar 2, 2020
Jewish and African American Teens Advocate in Tallahassee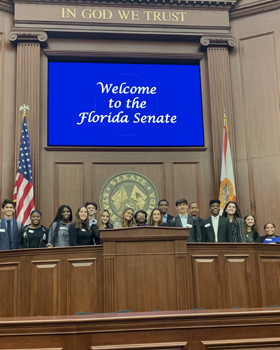 A delegation of Jewish and African American teens recently received an inside look at government in action. The 16 students traveled to Tallahassee to advocate on issues of shared concern, including gun violence, hate crimes and white nationalism, as part of Teens Advocating Together — a joint program between Federation Jewish Community Relations Council (JCRC) and the Miami-Dade Branch of the National Association for the Advancement of Colored People (NAACP).

They met with nine state legislators, visited the Senate floor between sessions, witnessed proceedings from the House gallery and engaged at length lunch with Florida Agriculture Commissioner Nikki Fried.
"I enjoyed getting to speak to the senators and representatives and feeling like I was a part of the lawmaking process myself," participant Sofia Arlen said. The experience helped the students put their ideas into action. "The day was particularly heartening because we witnessed the next generation of leadership," said JCRC Director Carol Brick-Turin. "It took courage for these teens to lobby legislators face-to-face."
The Tallahassee trip was the culmination of the Teens Advocating Together program, which involved months of training and education about civil rights, government relations and the shared experiences of the Jewish and African American communities. The students developed their advocacy skills and learned how they can best make a difference in the community. In addition to building camaraderie between the participants, the program also deepened their understanding of one another.