May 27, 2020
JVC Brings Comfort During Coronavirus Crisis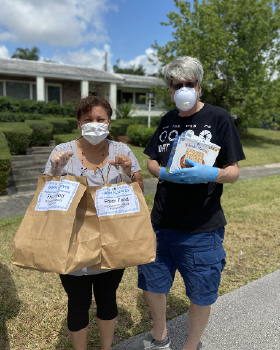 Since the beginning of the coronavirus pandemic, the Greater Miami Jewish Federation Jewish Volunteer Center (JVC) has tapped the energies and community spirit of more than 500 dedicated volunteers. Their selfless efforts are making a difference in the lives of thousands of residents who have been impacted socially, financially, physically and psychologically.
Even as cities within Miami-Dade County reopen, JVC continues to recruit volunteers to work with local social service agencies, assist isolated older adults and support individuals who are now experiencing economic vulnerability. Current projects are addressing a wide variety of important issues, such as:
Food Insecurity
• Volunteers are sorting and packing produce at Health in the Hood, stocking shelves and packing weekly groceries at the Jewish Community Services (JCS) Kosher Food Bank and making home deliveries of groceries to families in need.
• JVC is organizing efforts to pick up food and household items that have been collected and donated by Miami-Dade County synagogues. Donated goods are being delivered to the JCS Kosher Food Bank.
• In partnership with the JCS Kosher Food Bank, volunteers from the JVC will be assisting in distributing food to community members impacted by the current crisis and in need of kosher food.
Isolation
• Volunteers are making friendly phone calls to older adults throughout the community. This regular communication has provided much needed socialization for those living alone, while enabling JVC to assess needs and refer them to appropriate social service agencies in a timely manner. In the past seven weeks, more than 3,500 calls have been made.
Children's Needs
• High-school volunteers and elementary-school students are meeting weekly to participate in the JVC My Buddy Program. The high school volunteers are trained on how to facilitate fun, interactive activities with their elementary school buddies. This program engages older students in giving back and encourages younger children to be creative and use their social skills with their buddies.
JVC also is preparing to engage in a Summer of Service, providing day camps with mitzvah (good deed) projects for their campers, including assembling Sweet Dream kits for children in homeless shelters, Bunches of Lunches for homeless shelter residents and personalized thank-you cards for first responders.
JVC is a program of the Greater Miami Jewish Federation and offers volunteers a meaningful way to turn Jewish living into action by serving as a clearinghouse of needs- driven, high-impact, hands-on programming throughout Miami Dade County. For more information, contact JVC Director Lori Tabachnikoff at ltabachnikoff@gmjf.org or 786.866.8380.