Jun 16, 2020
Federation Kosher Food Distribution Drive-Thru Helps Those in Need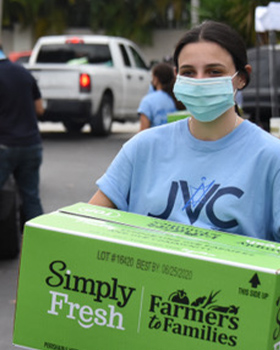 Greater Miami Jewish Federation volunteers distributed boxes of free food with chicken, baked goods, fresh produce and other non-perishable items to 1,000 people during a Kosher Food Distribution Drive-Thru Event last week. Approximately 300 hundred cars lined up behind the Federation Stanley C. Myers Building to drive through the parking lot where 50 Jewish Volunteer Center (JVC) volunteers loaded their trunks with nutritious food.
Coordinated by JVC, Federation's volunteer division, in partnership with Jewish Community Services of South Florida and Feeding South Florida and with donations from Anny's Bread Factory and the Kosher Ko-Op, the distribution was organized in response to the spike in joblessness and loss of family income resulting from the COVID-19 crisis.
"The event was simultaneously heartwarming and heartbreaking," said JVC Chair Esther Sabag-Peart. "It was heartwarming to see to so many volunteers giving their time to help our community and heartbreaking to see the depth of need that has affected so many of our friends and neighbors."
The JVC is the central clearinghouse for volunteerism in Miami's Jewish community, and is a resource for individuals, families and groups who would like to get involved and help local nonprofit organizations. For more information and to learn about about volunteer opportunities, click here. You may also contact Lori Tabachnikoff, Director of the Jewish Volunteer Center at 786.866.8680 or email Volunteer@JewishMiami.org.