Nov 3, 2020
Federation Overseas Partner Helps Latin American Nursing Homes Weather the Pandemic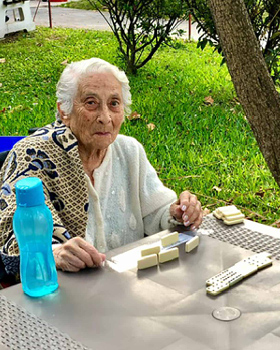 Stories from around the world have shown us how dangerous COVID-19 can be for the elderly, especially those in assisted living facilities and nursing homes. With help from Federation overseas partner the American Jewish Joint Distribution Committee (JDC), professionals from Jewish nursing homes across Latin America have been able to care for both their clients and their staff. Long before the coronavirus had even appeared on the world map, JDC brought together more than three dozen geriatric care professionals from six countries, in Montevideo, Uruguay, to learn from experts, build connections and share information. For nearly a year since the seminar ended, the participants have remained in contact, helping each other with problems and discussing best practices. The challenges faced in one nursing home, as well as the solutions staff members find, are often directly applicable to those in others, and no challenge has been more universal than the coronavirus pandemic.
"Thanks to the JDC network, we were able to anticipate needs with more and better measures, exchange protocols and adapt them to each country´s situation," said Ionit Leibovici, Executive Director of Hogar de Ancianos Israelita del Uruguay in Montevideo, the only Jewish institution in the country that provides comprehensive care for the elderly. "It is a priceless exchange for those of us that work with vulnerable and marginal populations."
Since the pandemic, daily life at Hogar de Ancianos Israelita has changed dramatically. Residents have been divided into five groups, partially to ensure their varying needs are still being met and also as a protective measure to prevent an outbreak from spreading beyond a single group. New safety and cleaning protocols have been implemented and additional materials including masks, gloves, cleaning supplies and plexiglass barriers for visitation rooms have been purchased.
Similar transformations have taken place at Hogar LeDor VaDor in Buenos Aires, Argentina. Other thoughtful and meticulous measures, such as an employee risk map that has improved the safety of their commutes and improved technology that is helping the 270 elderly residents remotely visit their family members and participate in activities, have also been enacted. These rapid adjustments would not have been possible without the support and suggestions received from colleagues all over Latin America, as well as the additional online meetings JDC has organized since the pandemic began.
Jonathan Cohen, corporate management coordinator of Hogar LeDor VaDor echoed his colleague, adding that the JDC network helps him feel supported in a volatile situation. "We have the skills, the training, and the community resources to handle this crisis," he said. "We're not just working in the short- and middle-term, but also building for the future. It's something you can see clearly in this moment."
As the pandemic spread, so, too, did JDC's education efforts. In March, the network received training from an infectious diseases expert from Spain, one of the European countries hit hardest by the pandemic; in May, they met with JDC elderly care specialists in Israel to share best practices and in June, staff from nursing homes in Argentina, Mexico and Chile shared their experiences with COVID–19 cases in their respective facilities. JDC expects to hold more of these meetings in the months to come.
For more information on Federation overseas partner JDC, contact Israel and Overseas Director
Dahlia Bendavid
at
dbendavid@gmjf.org
.