May 15, 2023
Stanley C. Myers and Daughter Judy Gilbert-Gould Leave a Legacy to Remember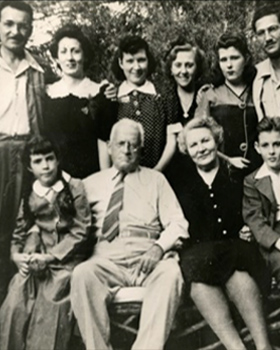 As Federation celebrates its 85th anniversary at the upcoming Annual Meeting, our community fondly remembers Federation Founding President Stanley C. Myers and his daughter Judy Gilbert-Gould, both of blessed memory, whose dynamic leadership and generous philanthropy will impact and inspire Jewish Miami for generations to come. "I was born into a family where it was understood that each member had an obligation to make the world a better place in which to live," recorded Judy in The Foundation's Book of Life website, citing that she learned this not through words but through her parents' deeds. Her father, Stanley, was installed as the first President of the Greater Miami Jewish Federation in 1938 and over the next five decades, dedicated his life's work to Federation and to Jews in need in Miami, in Israel and around the world.
In 1957, Federation created the Stanley C. Myers Presidents' Leadership Award, presented annually to young leaders of distinction in the Miami Jewish community. Judy and her brother, Kenneth Myers, of blessed memory, endowed the award in their father's memory. "My father's love of family was his deepest and most abiding love, which spilled over to the community, making the community his family," said Judy, who passed away in April and whose generous legacy gift supports both Federation and Temple Beth Am. Said her son, Bobby Gilbert, "Mom's passion for our Jewish community, Jewish causes worldwide and Israel was without limits, including the professional leadership and advocacy she provided on behalf of the struggle for the freedom of Soviet Jews."
Judy's vibrant career in the Jewish community included serving as Director of the Southeast Region of the American Jewish Congress and 25 years as Associate Director and then Director of our Federation's Jewish Community Relations Council. "My family is my legacy," wrote Judy, "and I hope and trust they will continue to strengthen the link of Jewish continuity begun so many years ago."
To learn more about leaving a legacy, you may contact Director of The Foundation Scott Kaplan at skaplan@gmjf.org or 786.866.8623 or Director of Foundation Development Jill Hagler at jhagler@gmjf.org or 786.866.8627.