May 19, 2021
Federation Continues to Help Olim During Recent Rocket Attacks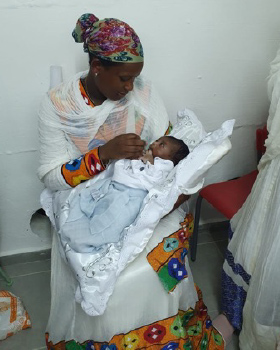 In ordinary and extraordinary times, your support of Federation helps our overseas partner, The Jewish Agency for Israel, care for olim (immigrants) in absorption centers throughout the country. The temporary residences provide a supportive environment tailored to the needs of new arrivals as they become acquainted with Israeli society. Arriving and then facing the unending barrage of rockets and ongoing violence in their new homeland — where many have yet to learn Hebrew or acclimate culturally — is incredibly difficult. Those who were already in precarious financial situations are unable to work and lost much-needed income. With schools closed across the region, children who recently began their studies and socialization efforts were forced to stay home. This is especially difficult for a large portion of the 2,000 Ethiopian olim who arrived through Operation Zur — the last flight landing only a little more than two months ago.
The Jewish Agency absorption centers in Israel's southern region are currently home to nearly 2,700 olim. Staff worked around the clock, through weekends and the recent Shavuot holiday, to ensure residents have the emotional and practical support they need, including moments of respite and relaxation. Social workers are offering learning sessions and one-on-one therapy to share resiliency techniques; children unable to attend school received tablets and Wi-Fi access so they can continue to learn and those who have lost income are receiving grants to help purchase food and other necessary supplies. The Jewish Agency even brought 720 families residing in absorption centers in Ashkelon, Ashdod and the surrounding areas to Jerusalem, Haifa and other locations for five days of respite.
To make a donation to the Annual Campaign to support our work overseas, please click here. We remain grateful for your support and the critical work of our overseas partners to provide a social-service safety net in these extremely difficult times.
Photo source: © The Jewish Agency for Israel