Jan 4, 2022
Onward Israel Strengthens Jewish Identity in Young Adults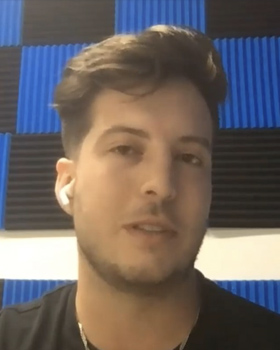 An Israel experience at any age can be transformative, but for 22-year-old Alberto Sutton, his summer with Federation-supported Onward Israel helped him see his Jewish heritage in a more meaningful way. Through the program, the FIU senior interned with a boutique real estate company while immersing himself in day-to-day life in Tel Aviv. "Being in Israel, meeting and learning from different people...really helped me understand my Jewish heritage," Sutton said.
As a business management major, Sutton gained valuable experience at his internship. "I worked with the team on real estate showings, sales and website content," he said. "I was able to connect and network with so many business people and those relationships will help me as I develop my career." He also appreciated seeing firsthand the diversity in Israel. "When I visited an area near the Gaza border, I talked to residents and heard about how they live with the fear of rocket fire. It made me appreciate all that I have in my own life and I admired their ability to smile and find joy each day."
Onward Israel is an eight-week professional internship in Tel Aviv for Miami-Dade County college students. Participants build their resumes through internships with Israeli peers while immersing themselves in the land and culture of Israel. The highly subsidized program is supported by Federation, The Jewish Agency for Israel, the Beacon and Shapira Foundations and other philanthropists. For more information, please click here or contact Bonnie Dawson at bdawson@gmjf.org.