May 19, 2021
On the Ground Responding to the Crisis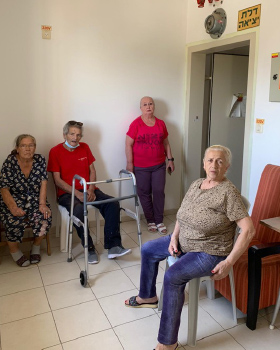 Yesterday, the Greater Miami Jewish Federation approved an emergency $100,000 allocation by The Jewish Federations of North America (JFNA) to help Israel respond to tragic loss of life and widespread safety concerns caused by two weeks of rocket attacks and civil unrest. 
The funds are part of a $1.3 million aid package committed by JFNA to assist the American Jewish Joint Distribution Committee, The Jewish Agency for Israel and the Israel Trauma Coalition. Our overseas partners already addressing critical needs in the wake of the violence.
Your support of Federation enabled us to help in some of following ways with our overseas partners:

The Jewish Agency for Israel
• The Fund for the Victims of Terror has distributed 170 checks for up to $1,200 each since the start of this crisis to those who have suffered from direct rocket attacks to help people begin the recovery and reconstruction process.
• More than 700 families living in absorption centers near rocket fire were moved to safer locations for five days of reprieve and respite. The Jewish Agency runs the absorption centers to help recent immigrants acclimate to their new homeland.
• Staff are supporting more than 3,000 seniors living in Amigour housing facilities — including many Holocaust Survivors — who have spent countless hours in shelters. Social workers are providing residents with emotional assistance to help them through the crisis.
The American Jewish Joint Distribution Committee (JDC)

• Providing trauma services for those most affected by the violence including activity kits in bomb shelters, psychological counseling and emotional support for young Israelis, Arabs and Jews alike.
• Training staff at more than 150 elderly care facilities in crisis response and health and wellness services for Russian-speaking older adults and the most vulnerable elderly in Arab and mixed Arab-Jewish cities.
• Supplying material support for families in distress, including grants for food and other basic needs to those who are sheltering from rockets.
• Helping people with disabilities by coordinating with Israel's Home Front command to make safety information easily accessible, including procuring life-saving technology for the deaf and hard of hearing as the rockets continue to fall.
• Organizing a full-year intervention program for the children in Lod, who have witnessed intense gunfire, violence and riots between the city's Arab and Jewish residents. Long-term assistance will include emotional support and counseling for staff, students and parents in up to 10 Lod schools.

Israel Trauma Coalition (ITC)

• Handling more than 1,200 calls daily to its crisis hotline.

• In the Gaza envelope, an area within four miles of the Gaza border, ITC is treating more than 2,000 people a day through home visits, group intervention and support for first responders. More than 62% of the population in southern Israel is receiving some form of psychosocial care.

World ORT

• Kfar Silver Youth Village's day school, which is near the Gaza border, closed and hundred of day students remained home. Around 150 boarding students and essential staff remained on site, spending their night's in the village bomb shelter. A musical performance by Israeli musicians Aviv Geffen and David Broza provided some respite and relaxation for the 122 students and 30 staff. 
Photo source: © Amigour