Jul 1, 2019
Young Adults From Miami Experience Israel With Taglit-Birthright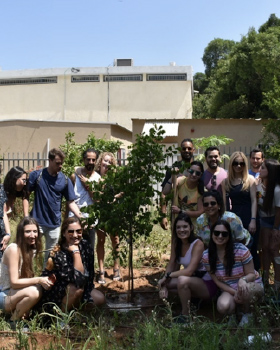 A warm welcome home to the 41 participants from the Miami Community Taglit-Birthright trip, organized by the Greater Miami Jewish Federation, who recently returned from Israel. The young adult group, ages 27-32, discovered the country with their peers while developing a connection to their spiritual homeland. Highlights included a stop in Federation's partnership city of Yerucham, where they visited an after-school program, a local synagogue and took part in a traditional drum circle. The group also toured the Golan Heights, rafted on the Jordan River, hiked Masada and spent time with the Ethiopian-Israeli community in Pardes Channa Karkur, where they tasted native cuisine and worked in the garden.
The itinerary provided participants a first-hand look at life in Israel. When the group traveled to Pardes Channa, they met with the community's leader and listened to the experiences of those who made the difficult aliyah journey, which for many included walking from Ethiopia to Sudan before being airlifted to Israel. For 30-year-old Shirley Benayon, the personal connection with the Israeli citizens proved particularly meaningful. "When I heard their stories, I saw a different perspective," she said. "They have fought so hard to be Jewish; it helped us all realize what a gift we have to practice our religion."
Noah Browne, 30, shared the sense of connection to those in Pardes Channa as well. "My father grew up in Trinidad, so the cultural aspects of the community resonated with me," he said. He marveled at the shared Jewish traditions. "It doesn't matter where you are from, Judaism is there with an open community."
Benayon and Browne have returned home energized about Israel and their Jewish heritage. "It is beautiful to realize there is a whole country that shares your values," Benayon said.