May 21, 2020
Women's Philanthropy Celebrates Leadership at Annual Meeting and Installation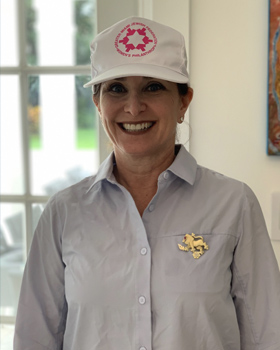 The current requirements of social distancing didn't stop nearly 80 women from recently participating in the Greater Miami Jewish Federation Women's Philanthropy Annual Meeting and Installation. The event, "From Strength to Strength: Finding and Flexing Your Leadership Muscle," was held via Zoom. As a celebration of leadership, it honored outgoing Board members and welcomed new officers to the Executive and Constituent Area Boards.
Women's Philanthropy President Ilene Kossman shared this year's theme from Elie Wiesel: "To be a Jew means to be present whenever our presence is needed by other Jews." Now more than ever, these words ring true. She also shared her gratitude for a year of impressive accomplishments, noting the success of new initiatives. She spoke about Women on the Move, a program focused on working women, Lions on the Loose, for Lion of Judah-level donors and The Dignity Project, which raised awareness of the numerous struggles many women and girls face due to a lack of access to feminine hygiene products. The Dignity Project culminated in several successful collection drives. Kossman recognized the philanthropic strength of Miami's Jewish women, highlighting that that their giving accounts for approximately one-third of the Annual Greater Miami Jewish Federation/UJA Campaign, totaling close to $8 million.
The program featured guest speaker Vicki Agron, an expert in leadership development and fundraising, who offered an engaging presentation on nine points of leadership. The outgoing and incoming Board members received a WP hat as a grateful token to symbolize "hats off" to their leadership. Given the increased needs faced by many, both locally and globally, and the uncertainty of what the future will look like, the strength of the Women's Philanthropy leadership is a true asset to Federation.
The 2020-2021 Executive Board
Ilene Kossman, President
Tammy Woldenberg, Campaign Chair
Elise Udelson, Major Gifts Chair
Jayne Shapiro, Vice President Area Campaign Development (Central)
Michelle Ben-Aviv, Vice President Area Campaign Development (Miami Beach)
Michele Scheck, Vice President Area Campaign Development (North Dade)
Melissa Buckner, Vice President Area Campaign Development (South Dade)
Adriana Halac, Vice President Education & Leadership
Amanda Adler, Vice President Outreach & Development
Leslie Benitah, Secretary
Lisa Weiner, Parliamentarian
Sara Bejar, Immediate Past President & Nominating Committee Chair
Patty Breakstone, Corey Feinsilver, Lilliam Furst, Ivonn Goihman, Lisa E. Goldstein, Susan Meister, Brenda Nullman, Alisa Oppenheim, Phyllis Sheinman and Mindy Solomon
Members-at-Large
To learn more about Women's Philanthropy and how to get involved, contact Women's Philanthropy Director Ofi Osin-Cohen at OOsin-cohen@gmjf.org or 786.866.8440.