Jun 3, 2021
Women's Philanthropy Gets Creative With Annual Meeting and Installation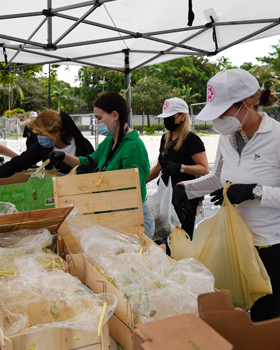 Women's Philanthropy Annual Meeting and Installation wrapped up a challenging and productive year in a creative and meaningful way. While last year's event was held on Zoom, this year the executive board was invited to participate in a socially distanced in-person mitzvah project. The women volunteered at one of the bi-monthly Kosher Food Distributions that Federation has been organizing throughout the pandemic. More than 300 cars came through and volunteers placed items such as fresh produce, dry goods, eggs, milk, juice and challah in their trunks. In addition, some also received period products for members of their household. This was the 19th Kosher Food Distribution since the pandemic started. 

Immediately after seeing the needs firsthand and the Federation mission in action, they gathered under a tent to thank Outgoing President Ilene Kossman for her outstanding leadership especially during the pandemic as well as the other leaders who served with her these past 2 years. Mazel Tov to the newly installed executive officers including Tammy Woldenberg as the President and Elise Udelson as the Campaign Chair.

Attendees also heard from guest speaker Dr. Eva Ritvo, a psychiatrist and author who is also the founder of Bekindr - a global initiative to bring more kindness into this world. It was a perfect way to culminate the year and be inspired to continue their efforts on behalf of the community.

To learn more about Women's Philanthropy, contact Ofi Osin-Cohen at oosin-cohen@gmjf.org.