Mar 24, 2021
Women's Philanthropy: Making a Difference and Creating Connections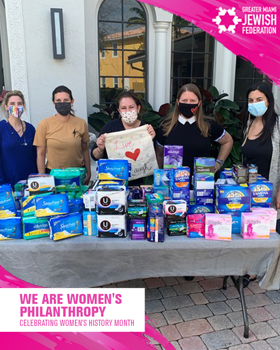 In celebration of Women's History Month, Women's Philanthropy wants you to know about Federation's efforts to engage women who want to make a difference.

The goal of Women's Philanthropy is to provide women a platform to use their most valuable resources of time, treasure and talents to make an impact. In doing so, they improve the lives of others. The group works to support Federation's mission of uplifting the most vulnerable among us, something even more important during the coronavirus crisis. Each year, approximately one-third of the Annual Greater Miami Jewish Federation/UJA Campaign — close to $7 million — comes from female donors.
Soon after the spread of COVID-19, Women's Philanthropy began offering a variety of virtual programs benefitting the community, while strengthening their connections with each other. "We are there for our community," said Women's Philanthropy President Ilene Kossman. "But we have also gained so much by relying on and supporting one another."
The virtual Women's Event last October drew more than 1,000 participants and was one of the first of its kind in the country, bringing so many together in the midst of isolating times. Other virtual programs offered robust learning opportunities on a variety of topics including the global economy, Israel's COVID-19 response, author and book reviews, women in the resistance movement during the Holocaust, a tour of the Ruth Bader Ginsburg exhibit, wine tastings, cooking demonstrations and more.
Socially distanced experiences have created opportunities for women to increase their knowledge of Federation's impact through programs like food drives, assembling dignity bags with feminine hygiene products to combat period poverty, crafting flower arrangements for isolated seniors and creating packages for children with special needs to celebrate Passover, to name a few. "Through Zoom, we are expanding our reach and sharing our strengths with women all over the world," added Kossman.
The Lion of Judah program, created in Miami by Norma Kipnis Wilson and Toby Friedland, z"l, is an international recognition society for women who make a minimum annual donation of $5,000 in their own name to Federation, something unheard of at its inception almost 50 years ago. Today, more than 18,000 women worldwide are proud Lions and wear their Lion pin as a symbol of their philanthropic values to support the global Jewish community. Many of them have become Forever Lions by establishing a legacy commitment to make an impact in perpetuity. This, too, was started here in Miami by Mikki Futernick. "I am so proud of how our women have shown up, stepped up and lead the way," Kossman said.
To learn more about Women's Philanthropy and get involved, please contact Ofi Osin-Cohen, Women's Philanthropy Director, at oosin-cohen@gmjf.org.