Oct 17, 2023
Yerucham Supports Displaced Israeli Citizens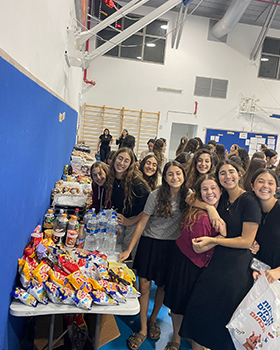 Miami's partnership city of Yerucham is making the desert bloom with love for Israel's citizens and soldiers who are experiencing extreme trauma and unbearable hardships as a result of the war in Israel. The small but mighty Negev town of nearly 12,000 has already taken in 100 displaced families, approximately 500 people, who have fled their homes in the Gaza Envelope — the group of communities located within 4.3 miles of the Gaza Strip populated by approximately 70,000 Israeli citizens. With a number of army bases in the region, they are also caring for IDF soldiers and some of the 360,000 reservists who have been called to duty following the horrific attack by Hamas. "Everything you can think of is being taken care of," said Dr. Naomi Lev, a resident of Yerucham and a member of Federation's Miami-Yerucham Partnership Committee, which works year-round to build and maintain meaningful relationships that strengthen both communities. "People are opening their hearts and homes."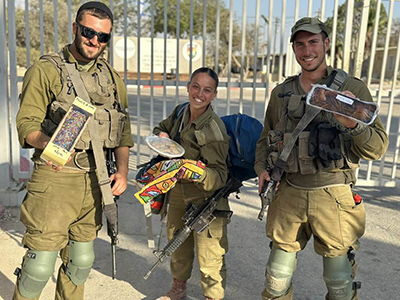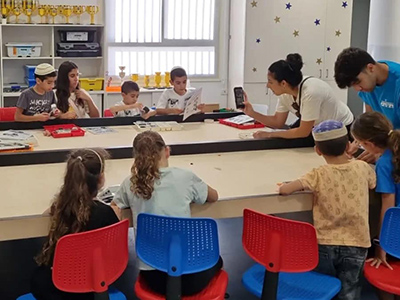 The effort in Yerucham, Miami's partnership city, is three-fold. First, locals are ensuring evacuees from the Gaza Envelope have someplace safe to stay, supplying not only beds or housing but completely outfitted apartments stocked with nutritious food, furniture, clothing, toys and games for children and more. Residents have opened their homes, offering spare rooms to displaced Israelis. Yerucham's boutique hotel, Desert Iris, is also providing rooms for those in need. The city's 48 short-term rental locations are helping families who have relocated, all without charge. Another area of focus is the soldiers housed at the numerous army bases nearby. Volunteers are bringing home-cooked meals, delivering supplies and even picking up soldiers' laundry to return washed, dried and folded. Finally, Yerucham is committed to keeping the morale of its residents high. Mental health is a priority and the community is coming together in a variety of ways to care for children, adults and seniors experiencing PTSD. Earlier this week, Federation hosted a virtual Miami-Yerucham Kabbalat Shabbat to show solidarity from afar. The community gathered by Zoom to welcome Shabbat with song, prayer and words of solace. As one participant said, "Miami loves Israel!"
Despite the shock and trauma coursing through the veins of every Israeli, the resilient residents of Yerucham are working at capacity, creating an efficient and effective volunteer system that is helping hundreds of Israeli citizens and soldiers around the clock. Everybody has taken on a role: children are writing letters and crafting cards for soldiers; teens are welcoming reservists with song and dance (Click here to see the video), acting as camp counselors organizing activities for displaced children; community members are cooking homemade meals for army bases, even responding to a variety of dietary needs; and restaurateurs are donating food and meals, some of them reserving their space only for soldiers and displaced families.


The collaborative efforts also include the work of educators, who have created early childhood, elementary and high school education programs so displaced students have a sense of normalcy and don't fall behind. High schoolers are volunteering until teachers can be placed. An educator and head of school in Denver prior to making aliyah four years ago, Dr. Lev stressed that there is a focus on "social, emotional and mental health," among other critical skills.
Another important area is that of security. Locals have pitched in with police and security staff to close two of the three entrances into the town. Overnight, volunteers take shifts with friends from the neighboring Bedouin community of Rahma to stand guard at the remaining entrance until the guards return. And in a resourceful move, students from the Yerucham Science Center and pre-army volunteers are even flying drones to ensure the security of the large open spaces surrounding the desert city.
"There are seven or eight very active What's App groups," says Dr. Lev. "One is in charge of locating empty homes and apartments. Another is in charge of furnishing them and filling them with all the food, clothing, goods and supplies the families will need. Yet another is responsible for making meals, and another for delivering items to nearby army bases. It is really remarkable to witness. Requests come up and in a second they are filled. If you turn away for just a moment, you have 250 missed messages!"
The city is expecting up to an additional 500 displaced Israeli families in the coming days and residents are ready and waiting with open arms. As they say, "Yerucham is a story of love during a very dark time," a fact to which Dr. Lev can attest. "My family has kind of adopted this group of reservists," she says with a smile that stretches even over the phone lines. "After noticing some requests come in from a base nearby, we have stayed in touch and check in on them often," she adds. "The other night, one of them sent me text saying, 'You are our strength. You are our reason we are going to win and win big.' The truth is, our soldiers give us strength. They give the nation strength, and the citizens of Israel give it right back to them. It is a beautiful symbiosis that propels the country forward."
To support Israel, please make a donation now to the Israel Emergency Fund.