Apr 29, 2019
The Eighth Annual Zachor Society Reception Raises Funds to Support the Holocaust Memorial Miami Beach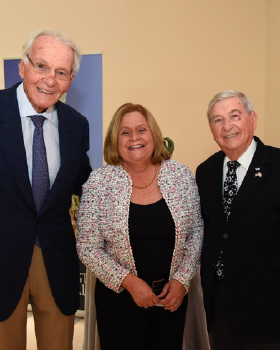 More than 180 of Miami's dedicated and generous philanthropists gathered for the Eighth Annual Zachor Society Reception in support of the Holocaust Memorial Miami Beach. The event, which took place at the all-new Braman Miami showroom, honored retired Congresswoman Ileana Ros-Lehtinen for her unwavering support of Holocaust Survivors. Norman Braman, Andrew C. Hall and Ezra Katz served as Honorary Event Chairs. Chaired by Sidney Pertnoy, the Holocaust Memorial Miami Beach is a Federation Committee.
Norman Braman, Founding Chair of the Holocaust Memorial Miami Beach, presented Congresswoman Ros-Lehtinen a framed photo of the Memorial signed by its architect and one of its original founders, Kenneth Triester, FAIA. Throughout her public service, Ros-Lehtinen sponsored legislation calling on Germany to meet its financial obligation to Survivors. She also helped Survivors and their heirs receive fair compensation for unpaid insurance policies and supported funding for Survivor assistance programs.
In an emotional tribute, Dr. Daniel Andai, Dean of Music at New World School of the Arts and world-class violin soloist, played Hatikvah on the restored violin of Holocaust Survivor Julius Reiter, of blessed memory. Julius is the father of Federation Chief Communications and Marketing Officer Bonnie Reiter-Lehrer, who was at the event and witnessed the violin come to life for the first time in more than two decades.
The Zachor Society helps keep the memory of the Holocaust alive through the support of the Holocaust Memorial Miami Beach. The generosity of the donors helps maintain and preserve the structure and surrounding property of the Memorial and ensures that the educational programs on-site and throughout the community are available to students. For more information about the Zachor Society and the Holocaust Memorial, please visit HolocaustMemorialMiamiBeach.org or call 305.538.1663.