The Michael-Ann Russell JCC Presents Meet the Author Jewish Book Series Featuring Meg Waite Clayton
When:
March 8, 2023 7:00 PM
Where:
Temple Sinai of North Dade
18801 NE 22nd Avenue
North Miami Beach, FL
Organizer:
Samantha Stern
Contact:
David Surowitz at davids@marjcc.org ((305) 932-4200)
Summary:
Join Meg Waite Clayton as she discusses her latest book, Postmistress of Paris.
More information
Event Details
Description
Join Meg Waite Clayton as she discusses her latest book, Postmistress of Paris.
In her latest book, the best-selling author of The Last Train to London writes a haunting novel about a young American heiress who helps artists escape from war-torn Europe.
The Postmistress of Paris is a GMA Buzz Book and New York Times Editors' Choice.
This complimentary event includes a Q&A, light refreshments, and a book signing. Books will be available for purchase.
Address
Temple Sinai of North Dade
18801 NE 22nd Avenue
North Miami Beach, FL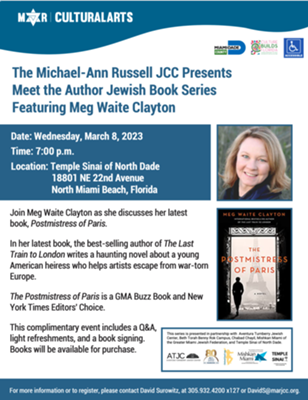 Actions
2023-03-08 19:00:00 2023-03-08 19:00:00 America/New_York The Michael-Ann Russell JCC Presents Meet the Author Jewish Book Series Featuring Meg Waite Clayton Join Meg Waite Clayton as she discusses her latest book, Postmistress of Paris. (http://jewishmiami.org/events/the_michael-ann_russell_jcc_presents_meet_the_author_jewish_book_series_featuring_meg_waite_clayton) Temple Sinai of North Dade, North Miami Beach, FL Samantha Stern davids@marjcc.org