26th Annual "Ministering to the Elderly" Conference on Wednesday, June 8, 2022
Creating Meaning in Times of Uncertainty
The COVID-19 pandemic has irrevocably altered life as we know it, especially for older adults, who have experienced unprecedented levels of isolation. Miami Jewish Health has an 80-year history offering comprehensive health services, living facilities and programs, all centered on an innovative care model grounded in empathy.
The global pandemic, while arguably the most prominent feature of the past two years, is not the only factor driving uncertainty. The world has become more polarized, antisemitism (and prejudice at large) has been on the rise, unthinkable tragedies including the Surfside condo collapse and numerous natural disasters have ravaged communities, created economic uncertainty and social upheavals, all contributing to immense pain.
One of the most important losses is time itself; it is not only quantifiable losses but losses of what could have been. Loss is not limited to any one event, but a sense that the world which was known is gone, and life is lived in the presence of this loss. Clinicians have termed this phenomenon as ambiguous loss or grief.
For a population that realizes the preciousness of time — given a perceived more limited time horizon — the ambiguous losses can be particularly challenging. To give a name to this reality is the first step to addressing and coping with this threat to quality of life. Reframing the challenges into a call to meaning making becomes all the more significant.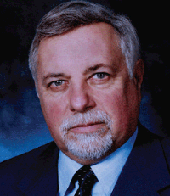 Our keynote speaker, Dr. Kenneth J. Doka, is a Professor Emeritus at the Graduate School of The College of New Rochelle and Senior Consultant to the Hospice Foundation of America. A prolific author, Dr. Doka has written or edited over 40 books and over 100 articles and book chapters. Dr. Doka is editor of both Omega: The Journal of Death and Dying and Journeys: A Newsletter to Help in Bereavement.
Dr. Doka was elected President of the Association for Death Education and Counseling (ADEC) in 1993. In 1995, he was elected to the Board of Directors of the International Work Group on Dying (IWG), Death and Bereavement and served as Chair from 1997 to 1999. ADEC presented him with an award for Outstanding Contributions in the Field of Death Education in 1998. In 2000, Scott and White presented him an award for Outstanding Contributions to Thanatology and Hospice. His alma mater, Concordia College, presented him with its first Distinguished Alumnus Award. He is a recipient of the Caring Hands Award, as well as the Dr. Robert Fulton CDEB Founder's Award. Both ADEC and IWG honored him with Lifetime Achievement Awards. In 2006, Dr. Doka was grandfathered in as a Mental Health Counselor under NY State's first licensure of counselors.
In addition, morning sessions will also include reflections and conversation on ways to spiritually frame the collective trauma both individuals and communities are experiencing, and offer models within the community as to how community-based institutions are responding to these traumas.
Participants in the morning will be able to:
· Define trauma and delineate current sources of societal trauma including disasters, social and political conflict, and the COVID-19 pandemic
· Discuss losses generally experienced throughout the past two years and indicate reasons that such losses can disenfranchise and create uncertainty, loss of meaning and diminish hope
· Describe strategies for finding meaning, rebuilding hope and enhancing resilience
The Program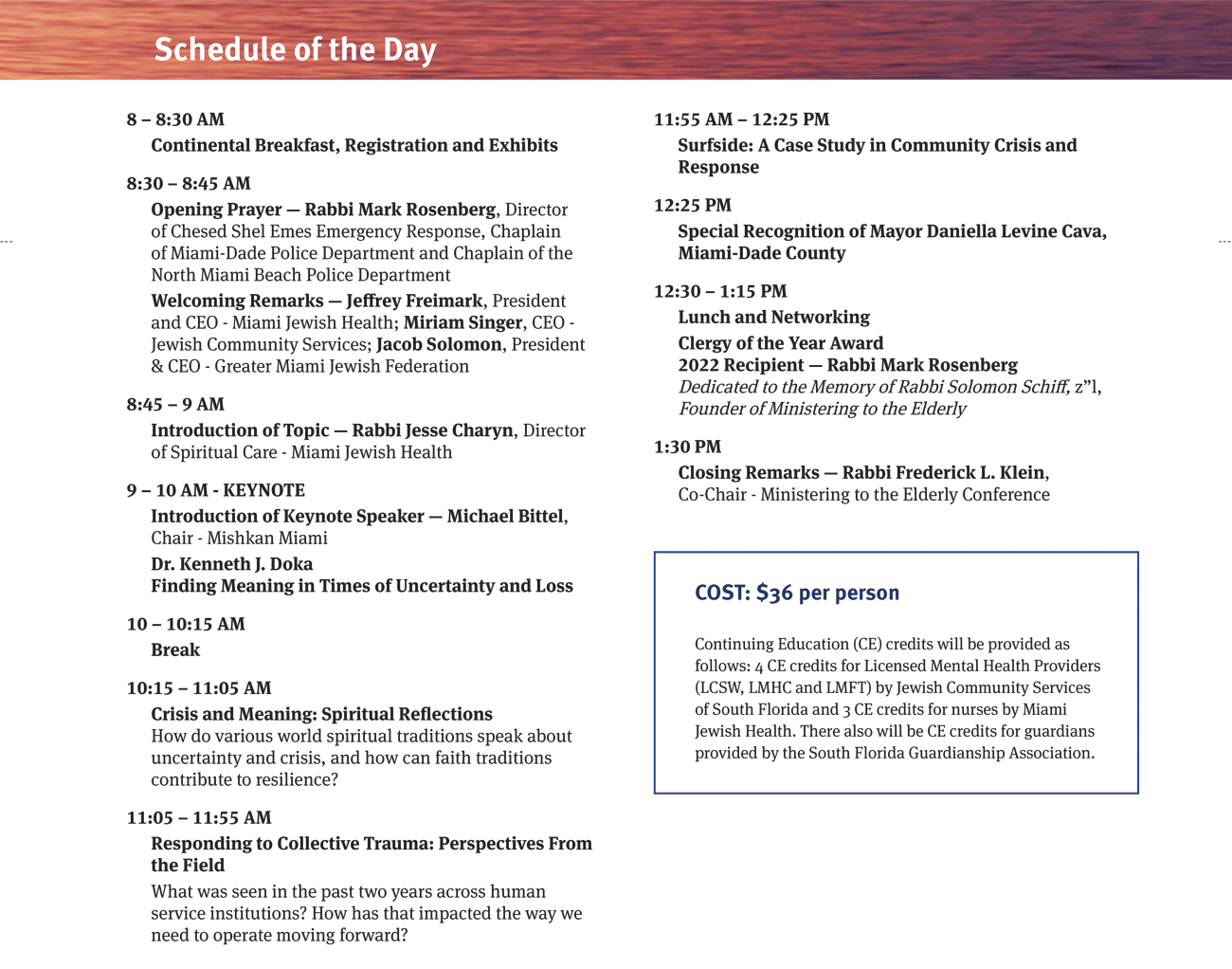 Jewish Community Services of South Florida (JCS) has been approved by the Florida Board of Psychology and the Florida Board of Clinical Social Work, Marriage and Family Therapy and Mental Health Counseling to sponsor 3.5 continuing education credits for mental health professionals. Also, The South Florida Guardianship Association has been approved by the Florida Statewide Public Guardianship for 4 CEUs for guardians. Continuing education credit will also be available for nurses.