Jun 16, 2020
CHAI FI Offers Virtual Summer Experience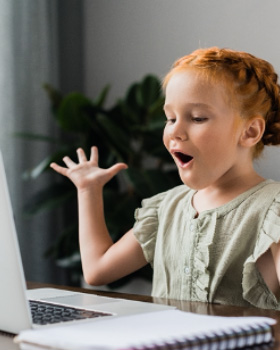 While the coronavirus pandemic has certainly changed summer plans, Jewish youth in Miami can still have fun through CHAI Fi. The program was developed by local synagogues and the Center for the Advancement of Jewish Education (CAJE), a Federation subsidiary agency. Beginning Monday, July 6, and running for four consecutive weeks, a full slate of virtual activities, ranging from cooking to magic to songwriting to wearable art, is available. Each session meets daily for a week, lasts 40 minutes and costs $40. With the idea that one size does not fit all, kids can create their own schedule, choosing as few or as many activities as they like.
CHAI Fi, while a clever play on the word WiFi, offers programs that are mindful of the fatigue associated with online learning. "The activities are really about fun and play," said Joy Schandler, CAJE Director of Early Childhood and Congregational Education. The offerings are grouped by age so younger children can enjoy activities such as Legos while older participants learn to master circus arts. Like traditional Jewish camp, the day begins with an opening circle and Fridays include a meaningful Kabbalat Shabbat. In a special teen-only component, virtual hangouts are available on Tuesday and Thursday afternoons. "During this very unusual summer, this provides older children a Jewish communal experience," Schandler said.
CHAI Fi was created by education directors from various synagogues who were looking for ways to connect with their students this summer. Working together with educators throughout Miami-Dade County, they devised unique activities. "This is a story of collaboration," Schandler added. "We have a tremendous amount of talent in our community and we're thrilled to share it in such an inventive way." CHAI Fi is open to everyone and families do not have to be members of a synagogue to participate. For more information, click here.