Dec 16, 2019
Day School Students Learn About the Experiences of Ethiopian-Israelis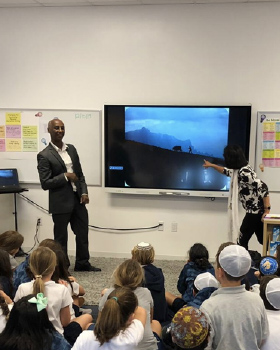 Fifth grade students at the Lehrman Community Day School, one of 10 Jewish day schools receiving funding from Federation, heard a firsthand account about the experiences and challenges of Ethiopian Jews who have made aliyah. The presentation was given by Moshe Yeshayahu, an Ethiopian-Israeli educator visiting Miami from Machon Merchavim in Israel, where he is a coordinator for the Federation supported Ethiopian-Israeli Educator Placement Program. Born into a Jewish family in Ethiopia, Moshe, his parents and siblings fled turbulent times in Ethiopia and headed to Sudan where they lived for over two years before arriving in Israel and building a new life.
Moshe's presentation included personal photos that highlighted the risks faced by his family during their journey to Israel. In addition to discussing how new immigrants adjust to life in Israel, Moshe also provided insights into the history and traditions of Jews from Ethiopia.
"You could hear a pin drop throughout the presentation," said Ayala Zeev, Lehrman Community Day School's Hebrew and Jewish Studies Director. "The kids were absolutely fascinated and had a tremendous learning experience."
Machon Merchavim has been working in partnership with the Ministry of Education to place qualified Ethiopian-Israeli educators in the Israeli school system making the classrooms more diverse. In the last three years, more than 170 Ethiopian-Israeli teachers have found employment in Israelis schools, thanks to Federation's support of this program.