Feb 21, 2020
South Dade Families Give Back by Planting a Community Garden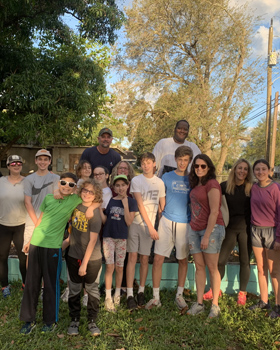 Jewish Families from South Dade recently earned their green thumbs while bringing the Jewish value of tikkun olam — repairing the world — to life. Working with Health in the Hood, an organization dedicated to providing healthy lifestyle options to disenfranchised communities, volunteers from Federation Jewish Volunteer Center (JVC) and the South Dade Gives Back program planted a community vegetable garden in an economically challenged neighborhood of Opa Locka. Parents and children rolled up their sleeves to weed, till and repair damaged garden beds and plant broccoli, cauliflower and collard greens. The crops grown in this urban garden will be given to families living in the surrounding neighborhood who have limited access to fresh produce.
"We all had a fantastic experience because you're actually doing the work yourself and making a difference in the community," said Elyssa Lewis who volunteered with other members of her family. "You know that you're dedicating your time to helping others."
Matthew Lewis, Elyssa's 14-year-old son, agreed that planting the urban garden was a great chance to improve the quality of life for others in the community.
"It was an opportunity for us to show compassion for others and it was satisfying to know that our efforts will help where it's needed," Matthew said.
The JVC is the central clearinghouse for volunteerism in Miami's Jewish community and is a resource for individuals, families and groups who would like to get involved and help local nonprofit organizations. Through South Dade Gives Back, the JVC gives funding and support to synagogues and families for mitzvah projects. For more information, or if you would like to learn about volunteer opportunities, please contact Lori Tabachnikoff, Director of the Jewish Volunteer Center at ltabachnikoff@gmjf.org or 786.866.8680.