May 28, 2019
Belarus Jewish Community Celebrates Good Deeds Week 2019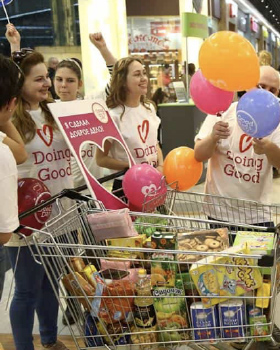 The Jewish community in Minsk, Belarus, recently celebrated Good Deeds Week 2019, with the support of Federation's overseas partner, the American Jewish Joint Distribution Committee (JDC). The annual event, which began in 2013, is a chance for the Minsk Jewish community to gather together and participate in the Jewish mitzvah of tikkun olam (repairing the world).
The week kicked off with a dance flash mob and continued gathering momentum. In just two days, the Good Deeds team collected 20 large sets of groceries for vulnerable families, materials for art therapy sessions to help children and adults with special needs, and baking supplies to make treats for the elderly. They also gathered with representatives from different Jewish organizations to plant trees.
Perhaps the most notable contribution came from the Rainbow Program, a social inclusion initiative for young adults with special needs run by the Hesed Rakhamim social welfare center. Ten fellows from the Rainbow Program, along with 10 young Jewish volunteers, led an arts and crafts workshop, played games, and hosted a tea party — complete with home-baked cookies provided by the wonderful moms from JCC Emunah.