Oct 27, 2020
Federation-Supported Hillels Stay Connected to Students Despite Pandemic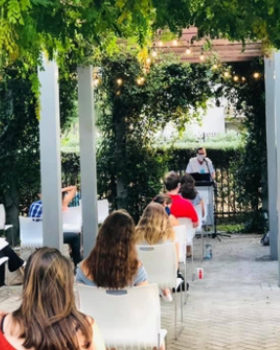 Since classes began in August, Hillel's two Miami-based chapters, Hillel at the University of Miami (UM) and Hillel at Florida International University (FIU) have created unique programs to inform, inspire and unite students attending live classes on campus and virtual classes from home. Despite the challenges posed by the pandemic, both Hillels are actively pursuing their mission of building strong campus communities of Jewish students through new, virtual classes like Life's Big Questions and Israel 2.0; a virtual sukkah, a MitzVote initiative and much more. The Hillels are part of a group of seven Florida Hillels including Central Florida Hillel, Hillel at FSU, Hillel of Broward and Palm Beach, Hillel of Florida Suncoast and UF Hillel supported by Federation through your donation to the Annual Greater Miami Jewish Federation/UJA Campaign. 
Following a poll of students that revealed interests in learning, civic engagement, mental health and professional development, UM Hillel adopted a program that complements the school's hybrid classroom-based and virtual-education approach. A dynamic mix of 10-week virtual classes was introduced, including Life's Big Questions and Israel 2.0. In the important weeks leading up to the election, UM Hillel created MitzVote, a Get-Out-the-Vote-style initiative that encouraged voter registration and education. As a result, UM is ranked No. 1 among Atlantic Coast Conference colleges (ACC) for student pledges to vote. Another innovation, The U Mentor program, connects UM students with local alumni who share their professional interests. In addition to attending socially distanced Shabbat and High Holy Day services, participating students received totes with supplies to observe Shabbat, like candles, grape juice, challah, a stress ball and gift cards for meals. "We will continue to conduct programs that are audaciously student-centric," said Igor Alterman, CEO of Hillel at University of Miami. "Our goal is to continue to offer creative opportunities and positive experiences."
Beyond virtual services for High Holy Days and Shabbat, Hillel at FIU students also had the opportunity to visit a virtual Social Justice Sukkah, which served as the digital site for a number of innovative programs. Presentations in the virtual Sukkah included speeches by both Miami-Dade mayoral candidates; a Voting 101 event with FIU's Black Student Union; an LGBTQ rights program in coordination with Keshet and SAVE and a forum with #CripTheVote, a non-partisan online movement activating and engaging disabled people on important policies and practices. Students also enjoyed a virtual bonfire singalong as part of FIU's homecoming celebration.
Making the most of Miami's Jewish community partnerships, both Hillels joined Federation partner Base Miami, The Network and other local volunteers for a Reverse Tashlich to pick up litter from Virginia Key beaches. They also took part in a Drone Tashlich event, held at the Dave and Mary Alper Jewish Community Center, which culminated with a Halo Drone casting away participants' shortcomings from the past year — inscribed on hydro-degradable paper — into the Atlantic Ocean. "We are doing a lot of individual outreach with a variety of community and FIU organizations to connect with students and will continue to do so when the pandemic has passed," said Jon Warech, Executive Director of Hillel at FIU. "What we've learned through the coronavirus crisis is that students crave connectivity and it's our job to meet them where they are and cater to their needs."