Mar 24, 2021
Advocating for Holocaust Survivors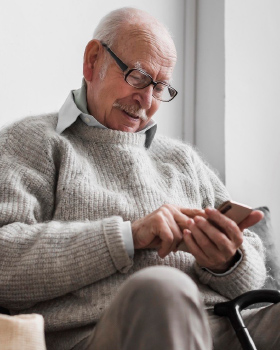 An estimated one-third of the 85,000 Holocaust Survivors in the United States are living in poverty and you can help them. Representatives Debbie Wasserman Schultz (D-FL) and Anthony Gonzalez (R-OH) are circulating a bipartisan letter that calls for $10 million in funding for the Holocaust Survivor Assistance Program (HSAP), an increase of $5 million over last year. This program responds to the challenges Holocaust Survivors face by expanding services and providing personal case management support to help them live independently. Please reach out to local officials Representatives  Frederica Wilson (D) and Carlos Gimenez (R) to request that they sign onto the letter by Wednesday, April 7.
Holocaust Survivors are an extremely vulnerable population, whose traumatic experiences during their childhood complicate their ability to seek, receive and benefit from the critical supportive services they need as older adults. HSAP offers a person-centered, trauma informed (PCTI) approach that empowers Survivors to make decisions about their health and lives and reduces the potential for re-traumatization. The funds will ensure this important work continues to improve the lives of Survivors and other vulnerable populations. Jewish Community Services of South Florida, Federation's primary human service agency, is providing this care to the nearly 2,000 Survivors who live in Miami.
Please call or email our Miami-Dade Congressional Representatives to urge their support of the Wasserman Schultz/Gonzalez letter.
Find your Representative here.
Representative Frederica Wilson (D)
Miami Gardens Office: 305.690.5905
Washington, D.C. Office: 202.225.4506
Email Page

Representative Carlos Gimenez (R)
Miami Office: 305.222.0160
Washington, D.C. Office: 202.225.2778
Email Page
We also encourage you to thank Representative Salazar for signing on to the letter and Representative Wasserman Schultz for co-authoring the letter in support of the Holocaust Survivor Assistance Program.
Representative Maria Elvira Salazar (R)
Miami Office: 305.668.2285
Washington, D.C. Office: 202.225.3931
Email Page

Representative Debbie Wasserman Schultz (D)
Aventura Office: 305.936.5724
Washington, D.C. Office: 202.225.7931
Email Page