Israel Study Trip Shows Federation at Work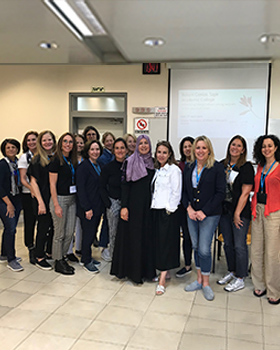 More than a dozen women from Miami's Jewish community recently spent a week in Israel to see firsthand the work of Federation's Women's Amutot Initiative. The robust itinerary provided participants a chance to observe the direct impact of your Annual Campaign donation and to understand the challenges faced by non-governmental organizations (NGOs) focused on improving the lives of women in Israel. The journey included visits to groups that serve Ethiopian-Israeli women, marginalized women in southern Israel, victims of sexual abuse, Haredi women and entrepreneurs and businesswomen. Over the past 17 years, Federation has contributed nearly $4.5 million in direct allocations from the Annual Federation/UJA Campaign to help promote social change for women in Israel. The Greater Miami Jewish Federation is the only federation that directly allocates Campaign funds for this area.
In meaningful experiences throughout the week, participants met with women whose lives have been transformed by the grassroots organizations that benefit from the grants. One woman, Vicki, a 54-year-old mother of three and cosmetician, found herself in dire circumstances after her husband's business collapsed leaving her liable as its guarantor. Thanks to Yozmot Atid, an NGO that helps reduce the social gaps in Israel by fostering economic independence, Vicki received mentorship and the tools she needed to realize her dream of opening her own business to support her family.
The annual study trip demonstrates the collaboration between Federation and our partners in Israel. "With great pride, we are now the largest funder of women's causes in Israel," said
Tracey Spiegelman
, Chair of the Women's Amutot Initiative. "The impact we have made on the status of women in Israeli society is tangible and evident upon each visit. The relationships we have forged with grantees have created great friendships for ourselves as well as productive collaborations amongst the
amutot
."