May 14, 2020
#JBlendMiami Jewish Day Schools Thriving in New Online Learning Environment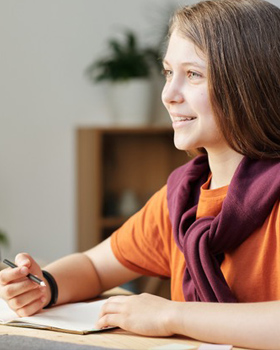 Thanks to #JBlendMiami, an ongoing initiative developed by the Center for the Advancement of Jewish Education (CAJE), a subsidiary of the Greater Miami Jewish Federation, many Miami Jewish day schools found themselves ready and able to quickly pivot to the virtual space that has become the new normal in education due to the Coronavirus pandemic. #JBlendMiami combines traditional instruction with digital technology to provide highly personalized student experiences. The ability to create individualized learning plans supported by a wide array of technology meets each student's needs, while inspiring and engaging them in the learning process. While each school has tailored the program to its own curricula, participating teachers from the schools work together, building relationships with one another as they collaborate and exchange ideas.
In mid-March, when our community began to shelter at home, schools were forced to transition to 100 percent online learning practically overnight. But the schools and educators, along with approximately 2,000 students who have been participating in #JBlendMiami, are thriving and energized in this new reality. Because of the ongoing collaborative learning environments existing within each school and amongst the network of schools, the agility and quick adaptation to our current reality was not as challenging as it could have been. Since the launch of #JBlendMiami Miami five years ago, there has been a dramatic shift in teachers' professional practice, student learning and school culture, and in today's reimagined world, more schools are interested in participating in a new #JBlendMiami cohort.

More so, just as the COVID-19 era emerged, Julie Lambert, Senior Education Consultant, and Valerie Mitrani, Director of Day School Strategy and Initiatives, had recently completed a community listening tour, which included site visits to all Federation-funded Jewish day schools. The duo collected and assessed and data regarding student learning and professional development needs. Since then, Lambert and Mitrani have continued to identify additional needs and challenges based on this new reality and what the future might look like.

During these unprecedented times, when schools may need to reduce or eliminate their professional development budgets, CAJE can offer Miami Jewish day schools a number of resources to enhance educational quality. CAJE's capacity, knowledge and expertise in professional development design and implementation as well as coaching support will serve as a valuable resource to schools moving forward.
Through programs like #JBlendMiami, Federation is committed to helping provide a strong Jewish education to Miami's future Jewish leaders. Last year, Federation provided 10 Jewish day schools and nine congregational schools in Miami with more than $2 million in grants and scholarships, impacting nearly 3,900 students.
#JBlendMiami is funded by grants from the Greater Miami Jewish Federation, the Avi Chai Foundation and several generous local donor. Click here for more information about #JBlend and other educational programs at our local Jewish day schools or contact CAJE Executive DirectorRabbi Efrat Zarren-Zohar at EfratZarren-Zohar@caje-miami.org.