Jan 30, 2023
JFNA Ukraine Emergency Fund Supports Annual Campaign Recipients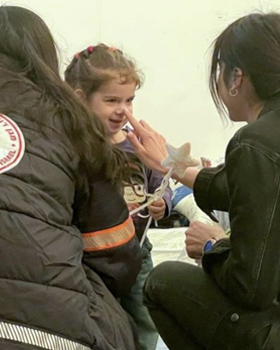 In addition to their vital work in Israel, many of Federation's partner organizations — supported by your donations to the Annual Campaign — are responding to the ongoing humanitarian crisis in Ukraine and the surrounding region thanks to funding from The Jewish Federations of North America (JFNA) Ukraine Emergency Campaign. Chamah, the Israel Trauma Coalition, Magen David Adom, United Hatzalah, Hillel International and itWorks are actively involved on the ground in Ukraine or helping refugees cope with the loss and trauma of war. By using their expertise in critical care and trauma response fields, these vital programs are bringing much-needed relief to victims of the war, Ukrainian refugees and other displaced families and individuals. 
Chamah, whose nutritional program for Jerusalem schoolchildren benefits from our Annual Campaign, received $150,000 to offer kosher food and accommodations for refugees entering Moldova.
Federation partner organization Israel Trauma Coalition (ITC) is using JFNA funds to train Jewish and non-Jewish personnel in Ukraine and surrounding countries to help individuals suffering from severe psychological trauma as a result of the war. They also offer psychosocial support and services for Ukrainian olim (immigrants) and the families of Ukrainians living in Israel. To date, they have trained more than 2,500 psychologists who have treated tens of thousands of people, along with dozens of psychologists serving Ukrainian first responders.
JFNA's Ukraine Emergency Campaign is helping Magen David Adom to support medical personnel in Ukraine and distribute critical care supplies to EMTs and paramedics and to provide first aid training for volunteers.
United Hatzalah is receiving JFNA funds to administer emergency medical services and relief to refugees crossing from Ukraine into Moldova. They have treated approximately 32,000 refugees at the Moldovan border.
In addition to seven Florida Hillels, Federation's Annual Campaign also funds Hillel International, which hosts Ukrainian Hillel students and other Jewish refugees in Hillel centers in surrounding countries. The organization's help extends to refugees living in Germany and Poland, where welcome centers have been established in Warsaw and Krakow.
Israeli non-profit itWorks, also supported through our Women's Amutot Initiative grants, received $700,000 to provide technological "boot camps" in Israel to recently arrived Ukrainian olim offering specialized training and job placement in Israel's high-tech sector. They are also aiding immigrants with emergency needs and their acculturation into Israeli society.
Click here to learn more about our work in Ukraine and other countries around the world.