Apr 27, 2021
Federation Food Distribution Drive-Thru Helps Record Number of People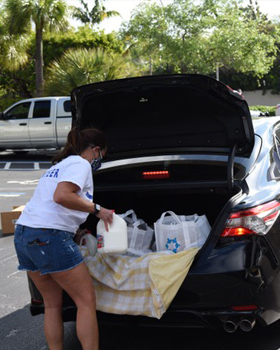 The line of cars extended for 12 blocks at the Greater Miami Jewish Federation's most recent Kosher Food Distribution Drive-Thru. Local residents waited hours to receive packages of kosher chicken, fresh produce, milk, eggs, challah, dry goods and other supplies needed to fill their fridges. More than 1,500 individuals benefited from the food distribution — the highest number of recipients since Federation began the events during the height of the COVID-19 pandemic.
"The community impact of the pandemic is far from over," said Federation Chief Planning Officer Michelle Labgold. "Unemployment, financial need and food insufficiency remain widespread and we are starting to see many people who have exhausted their savings during the past year and are now reaching out to us for help."
Partners in the bimonthly events include Federation's Jewish Volunteer Center (JVC), our primary human service agency Jewish Community Services of South Florida, Repair the World Miami, Farm Share and Miami-Dade County. Additionally, we are grateful to the following generous donors supporting our work to help those facing food insecurity: Joyce Bloch; the Himan Brown Charitable Trust; Sherry and Neil Cohen; The Fain Family Foundation; Barbara and Richard Furman; Ellie Ganz, Barbara Black Goldfarb and Norma Kipnis Wilson; Yleana and Yoram Izhak; the Katz/Squires Family-Valerie, Michael, Danielle and Scott; Stuart S. Kurlander and David L. Martin; The Richard and Karen LeFrak Charitable Foundation; Janice and Alan Lipton; Jerry M. Lindzon, Jill Braufman and Daniel L. Nir; Dorothy and Aaron Podhurst; Geraldine Schottenstein; the Saul Schottenstein Scrip Program; Jacqueline Simkin and the Sol Taplin Charitable Foundation. We are also thankful to those contributors who have asked to remain anonymous.

The next distribution will take place on Tuesday, May 11 from 9-11 a.m. at Federation's Stanley C. Myers Building, 4200 Biscayne Boulevard. For more information about volunteering for upcoming kosher food distribution drive-thru events, please call 786.866.8680.