Mar 14, 2023
Create a Lasting Legacy With Federation's Legacy Match Life Insurance Program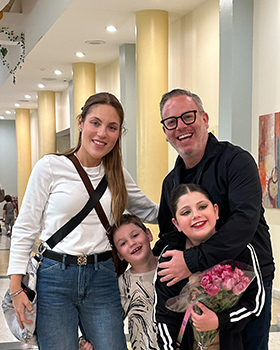 If you are looking for a more accessible way to create a Jewish legacy in our community, consider The Foundation of the Greater Miami Jewish Federation's Legacy Match Life Insurance Program. Yosef "Yosi" Shwedel, Campaign Chair of Federation's International Division and a member of the Jewish Federations of North America National Young Leadership Cabinet, and his wife, Rosy, recently took advantage of this unique opportunity to become The Foundation's newest Forever Pacesetters.
"About 13 years ago, my family and I came from a thriving and strong Jewish community in Mexico to make Miami our new home," said Shwedel. "We were so thankful to the Miami Jewish community for welcoming us with open arms. We became Forever Pacesetters to ensure that Jewish Miami continues to grow and flourish for future generations, including those who have made Miami their new home just as we did years ago."
Forever Pacesetters are donors who have chosen to perpetuate their annual Pacesetter-level gift of $10,000 or more with a legacy commitment of $200,000 or more. By making a commitment through the Legacy Match Life Insurance Program, they will make life insurance payments for only five years, with Federation providing 50% matching funds.
To learn more about creating a meaningful legacy gift through life insurance, contact Scott Kaplan, The Foundation Director, at [email protected] or 786.866.8623.