Oct 31, 2023
Local Children Raise Funds for Israel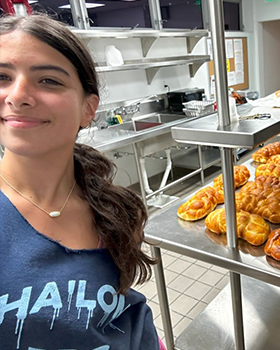 In the days immediately following the start of the war in Israel, three young South Floridians combined compassion and creativity to raise much-needed funds for the people of Israel, netting a total of $3,369 for the Greater Miami Jewish Federation Israel Emergency Fund (IEF).
After learning about Hamas' brutal, unprovoked attacks on Israel that began on October 7, Olivia, 9, Jordan, 10, and Sofia, 14, were among many local children and teens who sprung into action and organized innovative fundraising activities in their communities.
Sofia, whose Bat Mitzvah project had been to bake and sell challahs to buy electric recliners for women with breast cancer, refocused her challah project to benefit the people of Israel. She had participated in the Israel Now program in March through a Federation scholarship and Israel was close to her mind and her heart. "My trip to Israel was life-changing," said Sofia. "Hearing about the war was really hard for me. I wanted to help the people of Israel now so that other teens have the opportunity to one day travel there, too, and connect with Israel."
Sofia's dad, Andrew, who works for The Related Group, was able to access a commercial kitchen in one of its communities. It was there that Sofia set up her challah-baking enterprise. With the help of family, friends and neighbors, Sofia baked, sold and distributed more than 60 challahs in one weekend. The teen raised over $1,500 and The Related Group generously matched the funds, creating a total donation of $3,000 to the IEF. She hopes to continue fundraising when she has time. You can follow the project on her Instagram @mitzvah.chair.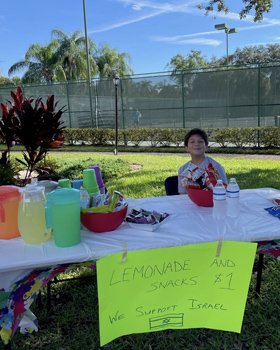 "When I heard what was happening in Israel, I wanted to help because war is not a nice thing," said Olivia. "I love Israel. A lot of teachers at my school, like my Hebrew teacher, are from Israel and have family there. I really wanted to help, so I thought I could make bracelets and sell them in my neighborhood. My brothers helped make pink lemonade to sell also."
Olivia and her brothers, Brayden, 7 and Caleb, 4, set up a stand in front of their home, selling the lemonade and handmade rubber bracelets. "Their sign said they were selling the items for charity," said their mom, Melissa. "When one woman asked what the charity was, Olivia told her it was for Israel, and the woman immediately pulled a $100 bill from her wallet to contribute." Together, the children raised a total of $289 for the Israel Emergency Fund.
"I like knowing that I helped make a difference," said Olivia. "To me, it is important to make a difference and help the world. Israel is important because it's our Jewish homeland. I want to visit Israel someday and I hope for peace."
"It makes me happy to help the people of Israel," said Jordan. "I learned about the Nazi invasion in school, and the cruelty of Hamas reminded me of that." Jordan set up a lemonade and snack stand in his neighborhood, selling drinks, chips, fruit bars and granola bars to benefit the people of Israel. The pop-up shop, located near his community's clubhouse, drew neighbors from the pool and tennis courts and raised $40 in a single day. Jordan's parents matched the fundraising dollar for dollar, so Jordan was able to donate $80 to the IEF.
One hundred percent of all funds donated to the Israel Emergency Fund go directly to help the people of Israel with their short- and long-term needs. To contribute, click here.