Mitzvah Day for Bonwitt Family Shows Federation Dollars at Work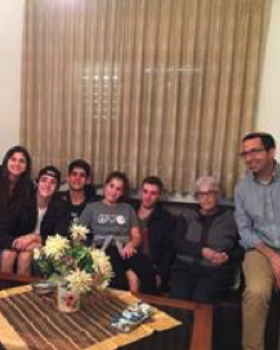 Your donations to the Annual Federation/UJA Campaign help make a difference in the lives of aging Israelis. Last year, nearly 300 of Israel's neediest elderly, many of whom are Holocaust survivors, received nutritious food parcels twice a month. This past December, during a family trip to Israel, Elise and Gil Bonwitt and their five children had a chance to see Federation funds in action during a special mitzvah day at the Jaffa Institute, a Federation beneficiary that carries out this holy work.
"Whenever we take the kids somewhere, we like to spend a day doing a mitzvah project," said Elise Scheck Bonwitt. "It's important the kids understand why we are so passionate about Federation. I like them to see how our donations are being used and how we are helping others. We hadn't been to Israel with the whole family in some time, so it was a priority this trip. Last time we were all together, we spent a day with Leket, so we wanted to do something different this time around."
The Bonwitts began their day by learning about the Jaffa Institute and how Federation's support helps the organization carry out its mission. In addition to food packages, the Accompanying the Elderly program provides social and emotional support via home visits. Clients receive a monthly package of fresh foods from a local grocery store partner and special holiday packages for Rosh Hashanah and Passover. A new part of the project, the Comfort Foods initiative, has volunteers cooking recipients' favorite childhood recipe.
Then the Bonwitt family rolled up their sleeves and got to work, helping pack boxes of food, ending their day with a special delivery to a Holocaust survivor. "It happened to be her birthday, so we had a cake and a little celebration," said Scheck Bonwitt. "She was so happy to see us and chat with the kids. The feeling was mutual. We spent quite a bit of time with her. Days like this really help our children see why we are so involved and open our eyes to how fortunate we are."
To continue to support this program, please consider making a donation now to the Annual Federation/UJA Campaign by clicking here.