Apr 7, 2021
Miami's Three Moishe Houses Are a Family Affair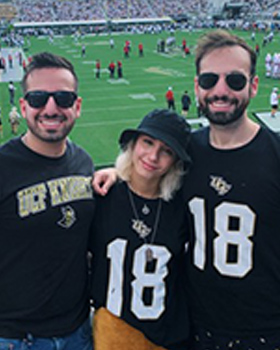 For Arielle, Ben and Jake Suster, Moishe House is certainly a family affair. The siblings bring their commitment to Jewish life and passion for engagement as residents of each of Miami's three Moishe Houses, all of which are supported by the Annual Greater Miami Jewish Federation/UJA Campaign. Arielle, 22, lives at Moishe House in Midtown; Jake, 24, lives at Moishe House in Aventura and Ben, 26, lives in Moishe House Brickell. As residents, the trio are provided with a rent subsidy and programming budget in exchange for planning and hosting monthly programs. The goal is to serve as a hub for young adults and create a vibrant Jewish experience. "We kind of joke that our parents like to keep us together," said Jake. "This is a great way for us to be part of our Jewish community."
Ben began his Moishe House journey in Cambridge, MA and loved the experience of building a sense of place. When he relocated to Miami, it was a natural fit to continue as a Moishe resident. "I knew firsthand what amazing work the organization does," he said. "Moishe House is in touch with what it means to be a young Jewish professional." His rave reviews prompted his siblings to follow his path and together, they are leaving their mark on Jewish life in Miami.
The challenges of COVID-19 have forced the Moishe Houses to adjust their programs, which at times can be challenging. "It is not always easy to get excited about virtual events," said Arielle. But the Houses have held successful virtual happy hours, cooking events and even a trivia night based on The Office television show. As more and more people receive vaccinations, they are starting to plan in-person events following CDC guidelines, including Shabbat dinners and Havdalah services. The siblings keep in close contact, talking daily and sharing best practices to develop successful programs. No doubt their parents are kvelling with pride!
To learn more about Federation's work strengthening Jewish identity in our community, please click here.