Jul 28, 2021
Israeli Division Makes History With First-Ever One-Day Mission in Israel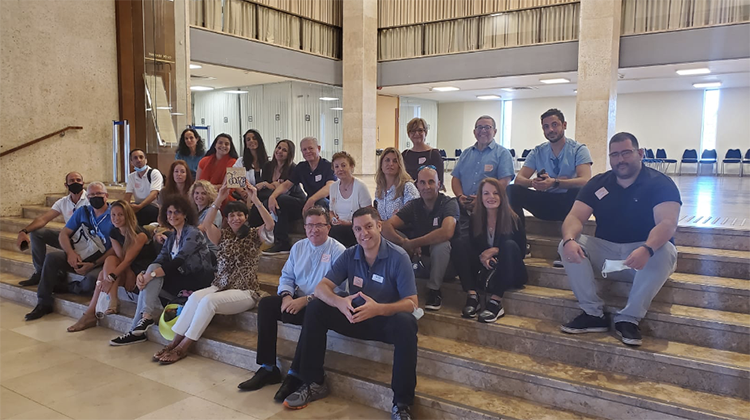 It was an enlightening, meaningful and historic day for 22 participants of the Greater Miami Jewish Federation Israeli Division as they recently came together for the division's first-ever one-day mission in Israel. Many of the Israelis in our community travel to Israel over the summer to visit family members so the timing provided an ideal opportunity for them to see firsthand the work of Federation. During the jam-packed day, the group experienced Israel in a way they never had before, even as Israelis familiar with the country and all it has to offer. Most importantly, it provided an opportunity for the participants to be on the ground with the programs and services that Federation supports and witness their transformative power. "I knew all the wonderful things Federation did in Miami, but this mission opened my eyes to the incredible range of work that Federation does in Israel as well," said Doron Avraham. "The realization that Federation has the power to change other people's lives locally and in Israel motivates volunteers to continue their work." 
Attendees toured Maslan, a rape crisis center in the Negev supported by our Women's Amutot Initiative and met with a survivor. They enjoyed lunch with Leah Farjun, one of the Culinary Queens of Yerucham, Federation's partner city. The group brings tourists into their homes to dine on local fare and learn about the culture of Israel and its Southern region. They even found time to meet with Yerucham's Diller Teen Fellows and explore the Yerucham Vineyard.
Dganit Mintz, chair of Forum Nashim, an Israeli women's group in Miami, remembered Yerucham as an underdeveloped community and was surprised to see its growth — thanks to many of the local Federation projects. "I could not believe the Yerucham Vineyard and I was so impressed with the work supporting survivors of domestic violence," she said. "I discovered new things and feel so thankful for Federation."
From touring the Knesset to hearing from Israel's Minister of Diaspora Affairs, Nachman Shai, who recently traveled to Miami to demonstrate Israel's solidarity with those affected by the tragedy in Surfside, the group saw their homeland from an entirely new angle.
The participants enjoyed a special camaraderie that helped make the day worthwhile and are eager to discover new things about the country they still call home on the next Mission. "I learned a lot during this tour, not only about Yerucham and the Knesset, but also about the work of Federation," said Keren Hacham. "Thank you for the opportunity to be a part of this empowering experience and I would love to join again next year."