Sep 29, 2020
Patients at Nicklaus Children's Hospital Celebrate Shabbat With Help From Federation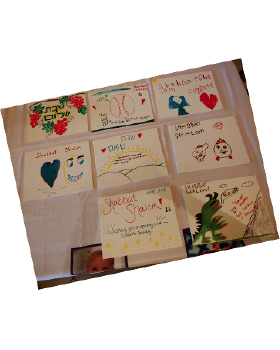 Patients at Nicklaus Children's Hospital are connecting to their Jewish heritage, even while hospitalized, thanks to support from a Federation Jewish Incubator Grant. The grant, allocated to the hospital's Victor Center for the Prevention of Jewish Genetic Diseases, has helped Jewish families during the most challenging times. Every Friday, patients receive a Shabbat bag, complete with challah, grape juice, electric tea lights, a prayer booklet and Shabbat-friendly activities. The program also provides similar kits during the Jewish holidays to the more than 700 Jewish inpatients at the hospital each year, allowing them to find comfort in Jewish rituals from lighting the Hannukah candles to dipping apples in honey.
The program is part of a larger effort to incorporate Jewish rituals for hospital patients. Nicklaus hosts Jewish-themed events for patients and staff, serves kosher food and has a Shabbat elevator for patient use. By supporting Jewish life at the hospital, the Victor Center can share its essential mission of expanding access to comprehensive genetic education, screening and counseling to identify carriers of childhood diseases common in the Jewish community. "When we engage with a family, we have a captive audience and can discuss our important work," said Shari Debowsky, the Victor Center's Director of Major Gifts. "With Federation's help, we are also able to reach more and more people and expand our impact beyond the walls of the hospital."
Jewish Incubator Grants support organizations, synagogues, agencies and schools that have developed bold initiatives to provide a safety net for the vulnerable, educate and advance Jewish identity and build our community. Last year grants totaling $70,000 were awarded to 16 organizations whose programs ranged from building relationships between preschoolers and seniors to making traditions and rituals more accessible to Jews with physical and physiological challenges. Click here to learn more about last year's grant recipients.