Sep 22, 2020
Meet the Repair the World Fellows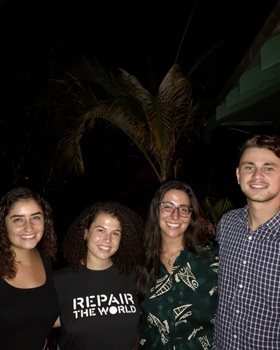 What do a soccer fanatic, a yogi, a criminal justice reformer and a certified beekeeper have in common? They are the new Repair the World Miami Fellows – Ella Fies, Jenneva Clauss, Anya Gips and Andrew Lloyd. Repair the World Miami, a Federation partner, works closely with the Federation Jewish Volunteer Center (JVC) and The Network, the Federation under-45 Division, to create impactful volunteering and education opportunities for young Jewish adults. The Fellows make a year-long service commitment, developing partnerships with Miami organizations and rallying local volunteers to address social inequality in the community.
Although the COVID-19 crisis has changed the way Repair the World serves the community, its work has become even more important during the pandemic. The fellows will be spearheading volunteer opportunities safely throughout the community. With personal protective equipment and proper social distancing, they will be planting vegetables in urban gardens to ensure the food supply is not interrupted, helping in shelters such as the Lotus House and Camillus House and more.

"The pandemic has shown that the most marginalized among us are the most impacted," said Janu Mendel, Repair the World Miami Executive Director. "Our projects are helping to ensure urgent needs are being met in places too often forgotten. This is a crucial way for us to make a difference as a Jewish community."

To learn more about Repair the World, please contact Miami Executive Director Janu Mendel at janu.mendel@werepair.org.