Aug 4, 2020
Young Adults Help Community Members Through Serve The Moment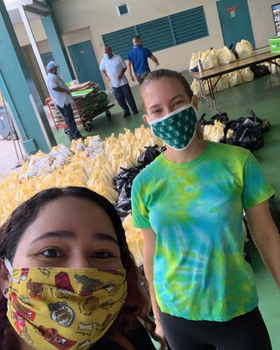 This summer, Federation joined other organizations under the umbrella of the Jewish Service Alliance to create Serve the Moment. The four-week "summer of service" program engaged 18-29-year-olds with the intent of initiating 100,000 acts of meaningful, community hands-on volunteering projects. The corps members focused their work on helping those suffering from the challenges of the COVID-19 crisis, the resulting economic downturn and the movement to end systemic racism.
Federation partner Repair the World, the lead organization managing the effort, coordinated the activities of the seven Miami corps members who worked with a variety of community-based nonprofits. These include the Belafonte TALCOCY Center, Guitars Over Guns, Jewish Community Services of South Florida (JCS) Kosher Food Bank and Ladies Empowerment and Action Program (LEAP). The corps members also met weekly for reflection and conversation about social justice, Jewish values and teachings.
Janu Mendel, Executive Director of Repair the World Miami, explained that Serve the Moment plays the dual role of raising the social conscience of young Jews, while also making a difference in a challenging era and a troubled world.
"Serve the Moment is a wonderful illustration of how the Jewish community can mobilize and build bridges during uncertain times," Mendel said. "Our goal of playing an integral role in support of social change is elevated by our partnership with Federation."
Avi Alpert, a 22-year-old corps member from North Miami Beach, spent the past month working with the JCS Kosher Food Bank. "I learned to appreciate the importance of giving back to the community," he said. "There is a tremendous difference between helping those in need firsthand and simply hearing stories about them."

Steven Breiter, City Coordinator for Serve the Moment in Miami, noted, "Seeing how much these corps members have grown, how their persepctive and ability to speak fluently about social justice and their service has progressed, and how connected they feel to their service partners is a terrific indicator showing how impactful Serve the Moment has been."
So impactful, in fact, that despite Alpert's impending job, he continued working at the Kosher Food Bank an additional week. "The experience has been incredibly powerful," Alpert added. "I had the opportunity to work with many elderly people in the community and I loved speaking with and learning from them."
Serve the Moment will grow by bringing on more corps members in the fall and spring. If you are interested in getting involved, visit www.werepair.org/miami, or email Janu Mendel at janu.mendel@werepair.org or Federation's Jewish Volunteer Center at volunteer@gmjf.org.