Sep 1, 2020
Federation Community Shlicha Connects Miami Jewish Community With Israel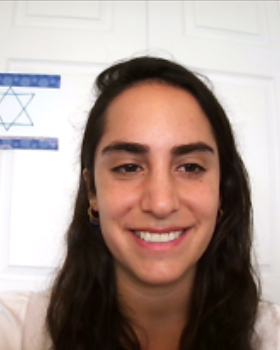 Thanks to the efforts of Federation Community Shlicha (emissary) Tamar Kolumbus, many members of Miami's Jewish community have been able to enjoy the wonders of Israel during the pandemic. Since her tenure last summer, Kolumbus has worked with the entire community to share Israel's rich traditions, culture, heritage and history and highlight the wonderful relationship with Federation partner city Yeruham. At the start of the coronavirus crisis, she quickly developed an online series to bring the sights and sounds of Israel into participants' living rooms on a weekly basis.
"This time has allowed me to experience my job differently. I had been giving lectures and holding programs at synagogues, JCCs and schools and now I have created new ways to engage the community from home," Kolumbus said.
To appeal to a broad audience, she has hosted a range of events, including guest speakers, cooking classes, conversations on Israel politics, discussions on the television series Unorthodox, a series on the Faces of Miami and Yerucham and strategies to battle the Boycott, Divestments and Sanctions (BDS) movement. Through Federation overseas partner, The Jewish Agency for Israel, which helps support the Shlichim program, Kolumbus also has networked with her peers serving around the world for ideas, best practices and educational content.
"I have reached thousands of people. It is particularly rewarding because I am engaging with new faces. There are participants who I wouldn't have met in the community because they don't attend synagogues or JCCs or have children," Kolumbus said. "I know that I am providing interesting activities in these challenging times." To see the weekly calendar of programs, visit Kolumbus' Shlicha Miami Facebook or email tkolumbus@gmjf.org.