Women's Philanthropy: Present Where Presence is Needed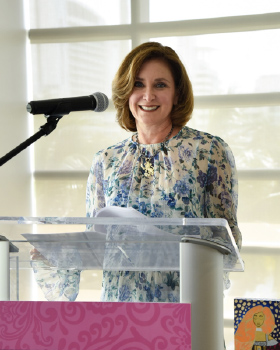 Ilene Kossman began her term as Greater Miami Jewish Federation Women's Philanthropy (WP) President with high hopes and excitement. She is deeply connected to the community and anchored by 25 years of Federation involvement. 
Kossman is familiar with Federation's impact on a personal level. Her late grandmother received Federation help in New York many years ago when she was left as a young widow raising two young children. "Celia was a Jew that needed the presence of other Jews to help her," she said. "It was the Federation system that was there for her during some very tough times."

As a result, Kossman truly understands women's role in strengthening Jewish identity. Women's Philanthropy gives women, at any stage of life, an opportunity to be part of a network of likeminded individuals supporting Jewish life for today and for generations to come.

This year's theme of Women's Philanthropy— to be present whenever our presence is needed — inspired from Eli Weisel's quote, reflects the breadth and depth of the division's reach. Programs planned will highlight the community's diverse interests. "There will truly be something for everyone," Kossman said. In addition to the annual signature Women's Event brunch, there are numerous events and programs being planned including service projects, a learning series that explores Jewish women leaders and issues that matter today, Culture and Conversations programs, exclusive events for Lion-level donors, travel to Israel on Heart to Heart, a National mission, social action initiatives, educational programs, networking and much more.

With an eye toward being inclusive and welcoming, programs will be available throughout the community and at different times of the day, so that women can fit their involvement into their other commitments. "Our goal is to attract a full community of women," Kossman said. "We really are one mishpacha (family) caring for each other."
Today, whenever Kossman travels, she visits Federation programs so she can witness the impact of Federation dollars at work firsthand. "Our umbrella touches so many Jewish lives," she adds. "Women's Philanthropy supports that mission and helps Jewish life flourish."
Kossman, along with Women's Philanthropy Campaign Chair Tammy Woldenberg and all the members of the Women's Philanthropy Board are looking forward to an engaging and successful year. You, too, can be involved. For more information, please contact Ofi Osin-Cohen, Director of Women's Philanthropy, at Oosin-cohen@gmjf.org or 786.866.8440.