Aug 18, 2022
World-Class Concert is Signature Event of Israel 75 Miami Mega Mission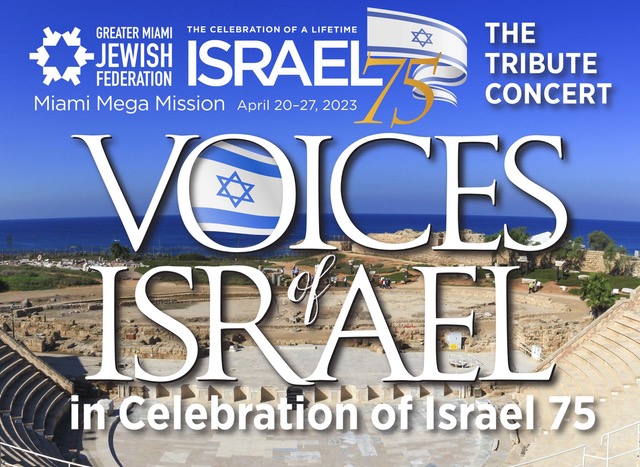 More than 725 people have already registered for Federation's Israel 75 Miami Mega Mission, taking place April 20-27, 2023, which features eight over-the-top Mega Events including Voices of Israel: The Tribute Concert in Celebration of Israel 75.

You won't want to miss this world-class concert under the stars at the Caesarea Amphitheatre presented by the Greater Miami Jewish Federation and The Jewish Federations of North America. The program showcases Israel's top musical performers celebrating the diversity of Israel and the Jewish Diaspora and promises to get your heart singing and your feet stomping!
 
The lineup includes: 




Gil Shohat, composer, conductor and pianist hailed as the leading Israeli musician of his generation



Shai Abramson, Representative Cantor for the State of Israel and a versatile performer of Israeli, modern pop and classic rock songs



Shachar Edwi, Yemenite-Israeli singer with a mesmerizing vocal range



Eden Alene, who represented Israel at Eurovision 2021



Yasmin Levy, popular Ladino singer and songwriter



Daniella Lugassy, prominent Israeli opera and pop-opera singer



Leonid Ptashka, Russian-Israeli pianist, composer and virtuoso instrumentalist



Shalva Band, composed of inspirational musicians with disabilities
Also appearing are the Jerusalem Symphony Orchestra and The Jerusalem Academy of Music and Dance Choir. Don't want to miss it? Reserve your spot on the Israel 75 Miami Mega Mission now, before it's too late! For more information and to register, click here.