Volunteer on Super Sunday & Good Deeds Day, March 15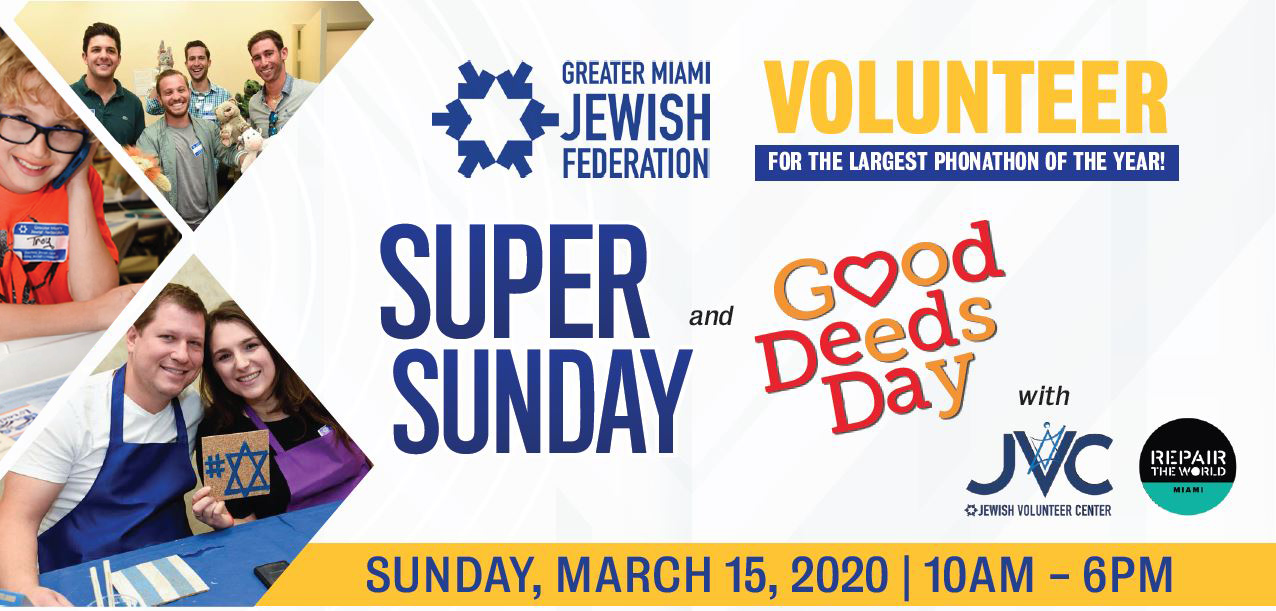 Join our team of do-gooders and raise money for the Annual Greater Miami Jewish Federation/UJA Campaign, supporting Jewish needs in Miami, in Israel and worldwide on Sunday, March 15 for Super Sunday and Good Deeds Day. All activities will take place at the Greater Miami Jewish Federation, Stanley C. Myers Building, 4200 Biscayne Boulevard, Miami.
Chaired this year by Gail & Stewart Appelrouth and Michelle Appelrouth-Rader & Josh Rader, Super Sunday is Federation's largest annual phonathon. From 10 a .m. to 6 p.m., hundreds of volunteers will gather to make phone calls to Jewish households in Miami-Dade County, asking for participation in the Annual Federation/UJA Campaign. Help make calls and write letters. There will be activities for all ages, including face painting with Network Young Families and PJ Library, and community service hours will be available.
Good Deeds Day is an annual celebration where hundreds of thousands of volunteers all across the globe choose to put into practice the simple idea that every single person can do something good, be it large or small, to improve the lives of others and positively change the world. Starting in Israel in 2007 with 7,000 volunteers, Good Deeds Day was initiated by American-Israeli businesswoman and philanthropist Shari Arison, and has since included hundreds of thousands of volunteers in 50 countries. The Greater Miami Jewish Federation thanks the Ted Arison Family Foundation for inspiring Good Deeds Day in Miami and around the world.
Super Sunday Vice Chairs are: Yael & Michael Cases, Rivka Goren, Jennifer Parrado & Laura Steckler, Esther Sabag-Peart, Michele Scheck, Bonnie Weintraub and Brian Zack.

Esther Sabag-Peart is Chair of the Jewish Volunteer Center of the Greater Miami Jewish Federation, which is coordinating the day's volunteer efforts.
If you can't be there in person, please answer the call on Super Sunday and give as generously as you can to the Annual Federation/UJA Campaign.
To make a donation to the Annual Federation/UJA Campaign, please click here.

SUPER SUNDAY/GOOD DEEDS DAY VOLUNTEER OPPORTUNITIES THROUGHOUT THE DAY
Pick Up The Phone
Volunteer to make phone calls and raise vital funds for the Annual Greater Miami Jewish Federation/UJA Campaign.
To register, please click here