Israel Advocacy Tour - Miami Beach
When:
October 19, 2023 6:00 PM to
Where:
1200 Normandy Dr,
Miami Beach, FL 33141
Organizer:
Simon Schwartz
Contact:
Simon Schwartz at

[email protected]

Summary:
FMBHC brings Yoseph Haddad, Emily Schrader, Herzl Makov and Simon Schwartz to Temple Moses.
More information
Event Details
Description
(Miami, FL, September 12, 2023) – The widely known Israeli Arab, Yoseph Haddad, an advocate for Israel and former IDF soldier, will keynote the upcoming Israel Advocacy Tour in South Florida organized by the Friends of the Menachem Begin Heritage Center (FMBHC), a new US-based 501c3 not-for-profit. The multi-day event will feature a range of speakers covering Israel advocacy, Zionism, and antisemitism - focusing on instilling pride, finding solutions, and pathways toward resolutions in the spirit of the late Prime Minister Menachem Begin.
"FMBHC's mission is to empower communities by creating opportunities to learn and engage in dialogue with experts in various disciplines and in the vein of Begin's morals, ethics, and pride when advocating for Israel, Judaism, and global issues at large," explained Simon Schwartz, Executive Director. Haddad, a 2022 recipient of the Begin Prize, awarded annually to a small group of individuals who have dedicated their life and work to improving the land and people of Israel, personifies the mission entirely, "as an Israeli Arab, Haddad has served in the IDF, has traveled the world fighting BDS and anti-Israel sentiments on college campuses, and utilizes social media in a way that is newsworthy, honest and educational." Haddad is among a select group of individuals who've been honored over the last 20 years.
The Israel Advocacy Tour marks FMBHC's debut event. South Florida has historically been a headquarters for FMBHC-related initiatives, in addition to being where many of the organization's volunteer leadership are based.
Address
1200 Normandy Dr,
Miami Beach, FL 33141
Directions
Get detailed directions and more on Google Maps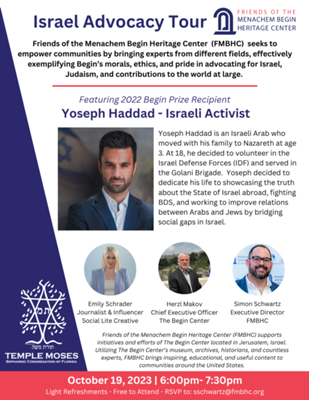 Actions
2023-10-19 18:00:00 2023-10-19 18:00:00 America/New_York Israel Advocacy Tour - Miami Beach FMBHC brings Yoseph Haddad, Emily Schrader, Herzl Makov and Simon Schwartz to Temple Moses. (http://jewishmiami.org/events/israel_advocacy_tour_-_miami_beach) Miami Beach, FL 33141 Simon Schwartz [email protected]