JPro Miami Networking Session
When:
April 26, 2022 8:30 AM to 9:30 AM
Where:
Zak The Baker
295 NW 26th St, Miami, FL 33127

Organizer:
Joy Prevor
Contact:
Joy Prevor at jprevor@gmjf.org
Summary:
Jewish communal professionals networking.
Event Details
Description
Join us for another opportunity to "schmooze" and get to know each other over coffee and pastries. FREE for JPro members!
Address
Zak The Baker
295 NW 26th St, Miami, FL 33127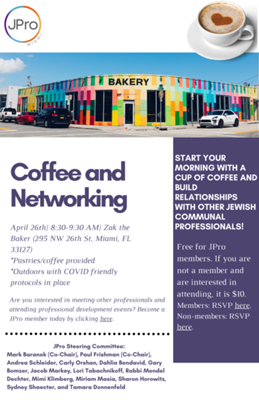 Actions
2022-04-26 08:30:00 2022-04-26 09:30:00 America/New_York JPro Miami Networking Session Jewish communal professionals networking. (http://jewishmiami.org/events/jpro_miami_networking_session_) Zak The BakerPlease refer to event page Joy Prevor jprevor@gmjf.org